My kids and I love collecting bits of nature wherever we go–rocks from the beach, pinecones in the forest and interesting leaves whenever we can! Fall is such a great time to be exploring ways to make art with nature. You just have to walk out your front door for your supplies! We recently tried a super easy fall nature art project–Printing with leaves! I love that this project can preserve a little bit of nature that we can enjoy for years to come.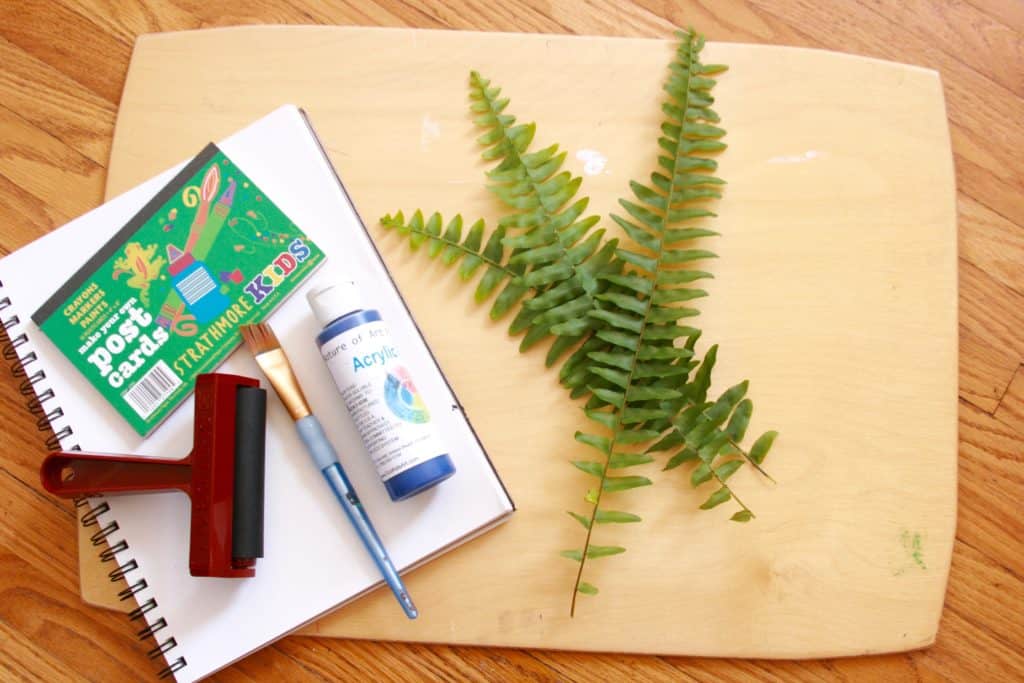 Supplies:
Leaves –  Fall is a great time to find leaves. Freshly fallen ones work best – or right from the plant. Just make sure they are not too dry. You can also use leaves from silk or fake plants!! They might not have the intricate detail, but it will still produce a great shape.
Scrap paper–Big sheets  are best. You can lay them on your surface and cover your leaves when pressing. Newspaper or newsprint is fine.  Make sure the paper is larger than your largest leaf.
Printing paper-use the best quality paper you can find or just what ever you have around. We used watercolor paper(this and this) and tore paper from a decent sketchbook(like this one)
Large brush –  We had one for each color of paint
Paint-we used kids craft paint, but acrylic works well, too(beware- most acrylics do not wash out).
Brayer(optional)- this just works to really press the leaf and roll it out—but hands work well too or try a rolling pin. We used this one.
Let's print!
Gather your supplies and prepare your space by covering surfaces for protection.
Choose a leaf to be printed and paint the front side with your large brush. A small amount of paint works best( you'll find the right amount after you practice a few times).
Turn the leaf over carefully so it is paint side down on the printing paper, trying not to move it at all.
Place another sheet of scrap paper over the entire leaf. If you have a brayer or roller, gently roll up and down the leaf starting from the center, rolling up and out, then down and out. Or just run your hands up and down over the sheet of paper, smoothing out the entire leaf.
Remove the sheet and carefully pull up your leaf.  Voila-you have a print!!
This process can take several times to get a good print- and that is half of the fun!!
Do your first couple of prints on newspaper or scrap paper to conserve your good stuff. Once you figure out the right amount of paint and your best rolling technique, then try one on water color paper.
This is a wonderful process art activity-let go of your expectations of a perfect print–all of your prints will have something lovely about them.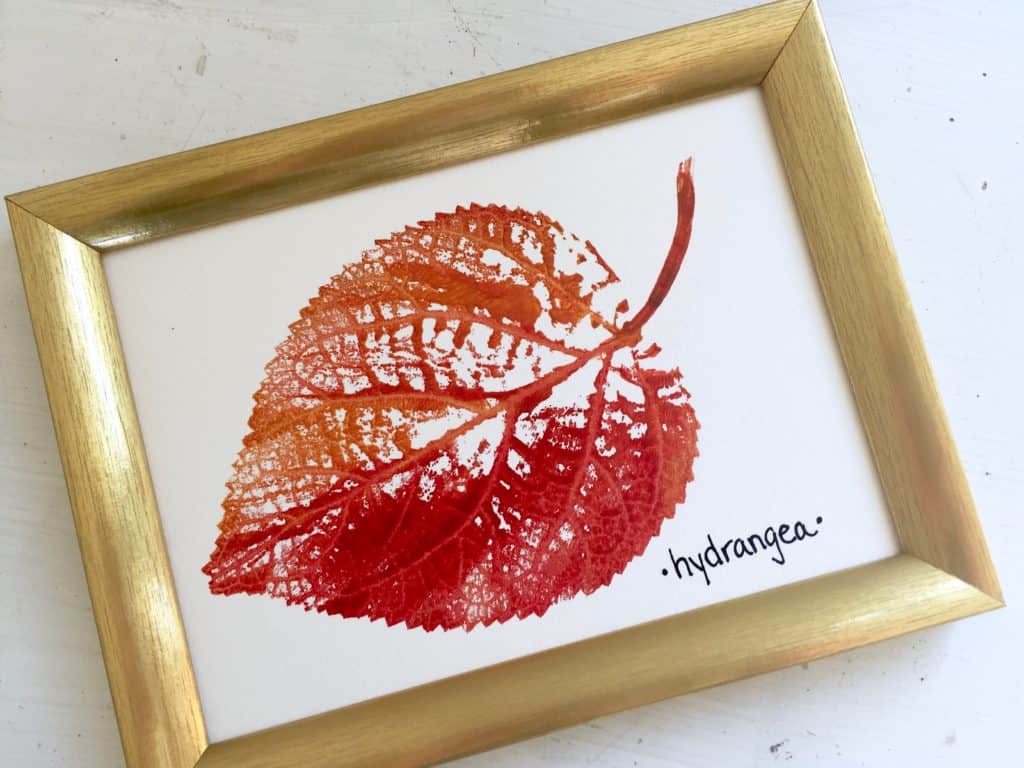 Once the prints are dry, there are lots of things you can do with them.   Frame your favorites to keep or give away, send them as cards, make gift tags, postcards, use them for future collage material. Add other media when the paint is dry. Water color over the leaves. Draw, write a message. We used markers to fill in the leaves on some of our practice prints.
This really is a really fun activity for the whole family! Please tag me on Instagram @heyfuzzymama if you try this.
If you'd like more info about doing art projects with your kids, download my guide to setting up your own tinker space HERE.  You'll find a huge list of supplies and ideas for creating
SaveSave
SaveSave
SaveSaveSaveSave
SaveSave
SaveSave
SaveSave
SaveSave
SaveSave
SaveSave
SaveSave
SaveSave