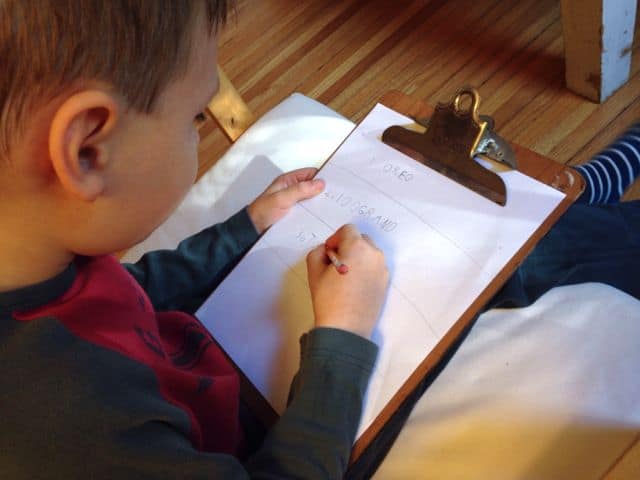 With the school year in full swing, you already have an idea about how your kids are faring.  Maybe they are loving everything about school…and maybe they are not. Perhaps sitting down to do homework is something no one looks forward to…especially you.  Having a child who struggles with writing can be extremely difficult and taxing on your relationship.  Many kids need extra practice when it comes to writing–from forming their letters to writng down their ideas for more creative pursuits.  I not only have a second grader who continues to struggle with writing, but have more than a handful of students each year who do as well.
You can imagine I have tried many, many things to get kids over that hump to a place where they feel more comfortable with their writing.   Sometimes it is just time and mother nature moving at her own pace.  But there are many easy ideas that do work and can even bring some fun and joy into the process!
One idea that can be used over and over again is inviting a child to make lists. Lists involve little to no punctuation or long thought out ideas, so much of the pressure is taken off.  For the beginning writer they can provide great practice at forming letters, writing numbers and expressing simple ideas. Wish lists for birthdays and the holidays can be ongoing and always fun!   Children can make lists of groceries to purchase, meals for the week, or books to get at the library.  These types of lists can have a practical application and make children feel like they are contributing.
Sometimes having the right tools can help.  A must in our house is a clipboard for each child.  Writing can happen anywhere in the house–even outside.  When choosing a clipboard, go for sturdy over pretty.  Both of mine are vintage, thrifted finds for under a dollar each! Having fun markers, pens, and pencils can make writing more enticing.  Dedicate a basket to colorful paper in different sizes, lined notebooks and journals.   These tools should be available at all times–whenever the mood strikes
Something we have always done is have our kids write thank you notes at every opportunity.  Aside from instilling impeccable manners, these provide a great opportunity to practice good penmanship and express gratitude.  Notes can be written to the Tooth Fairy, Santa, the Easter Bunny-you name it.  Make it fun, use stickers, colorful stationary, the works.  When a child's writing is legible, have them address the envelope as well.  Writing letters is a dying art and a skill rarely taught in school anymore!
Many younger school aged children struggle with writing.  Instead of bombarding you with too many ideas, I will have a few more posts spread out over the next few weeks so I can share in more doable chunks.  I want these ideas to feel like something you would try.  Please, do tell me if something that has worked for you.  I would love to have you share your ideas.
SaveSave