The Best Books for Reluctant Boy Readers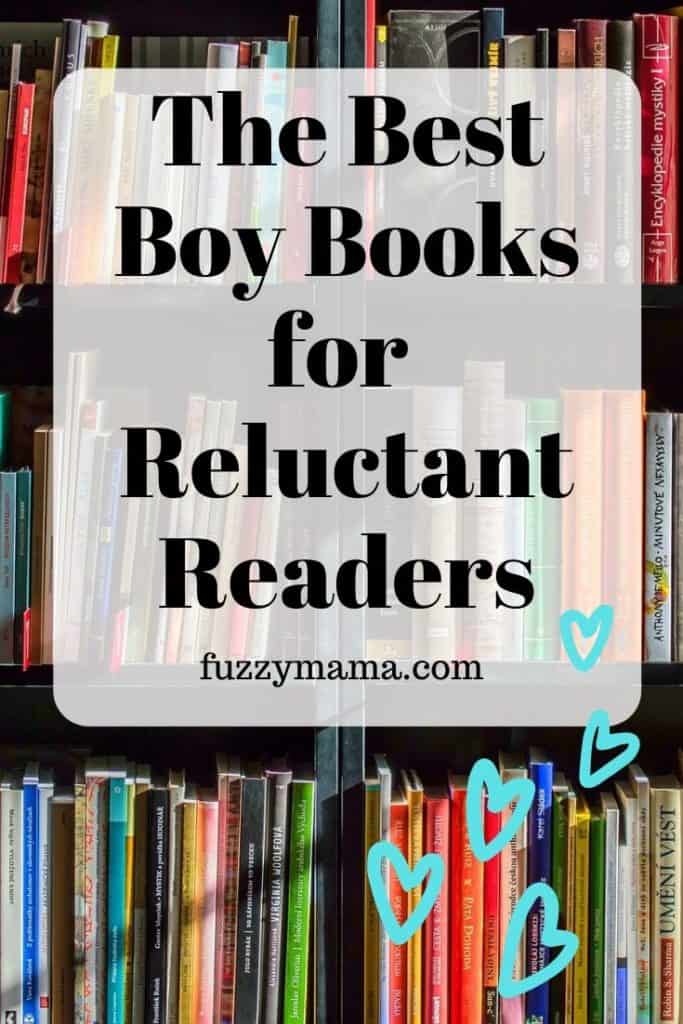 Need some book suggestions for your reluctant boy reader?
You have come to the right place! I get it. I have two very busy (mine both carry an ADHD diagnosis), very active boys who now LOVE reading.
How'd that happen, you ask? How can you get a reluctant reader to not only pick up a book, but end up loving reading?
I credit lots of things, but these books for reluctant boy readers attracted my boys and held their interest more than any others.
Admittedly, not all of them are MY favorites.
But, I've talked about this before. Get kids books THEY enjoy.
The most important piece in raising a reader is to have kids see reading as an enjoyable activity.
simple things to get your kids devouring books:
Find books that peak your kid's interests and then indulge them.
Fill your house with books!
Scour thrift stores for books,
Give your kids an allowance for books.
Travel to multiple libraries to fill your arms with books your kids love.
Personal Note: After 15 years of mothering and 25 years of teaching, I have seen these books work wonders on boys ages 3 to 12-ish. *Wait!! I've added more for older readers, too!!!*
I am an Amazon Affiliate, but only recommend things I OWN myself. Read our full disclosure, here.
The Best Boy Books for Reluctant Readers

It has been my experience raising two boys with ADHD, that if you can get them interested in something, their symptoms seems to melt away.
Both of my boys, and I would argue boys, in general, LOVE to build things. Steven Caney's Ultimate Building Book appeals to kids 4 to 94! The book is packed with any and all information you'd ever need to create and build just about anything.
Caney has us exploring household and natural materials we all have at our disposal in new and inventive ways. You, no doubt, will have a Jr. architect on your hands. These activities kept my kids busy for hours and hours on end. A must have for any boy's library.
Rekindle or start your kid's passion for building with Steven Caney's Ultimate Building Book. This is truly a book for the whole family – I've learned a lot about architecture and created a few things, myself.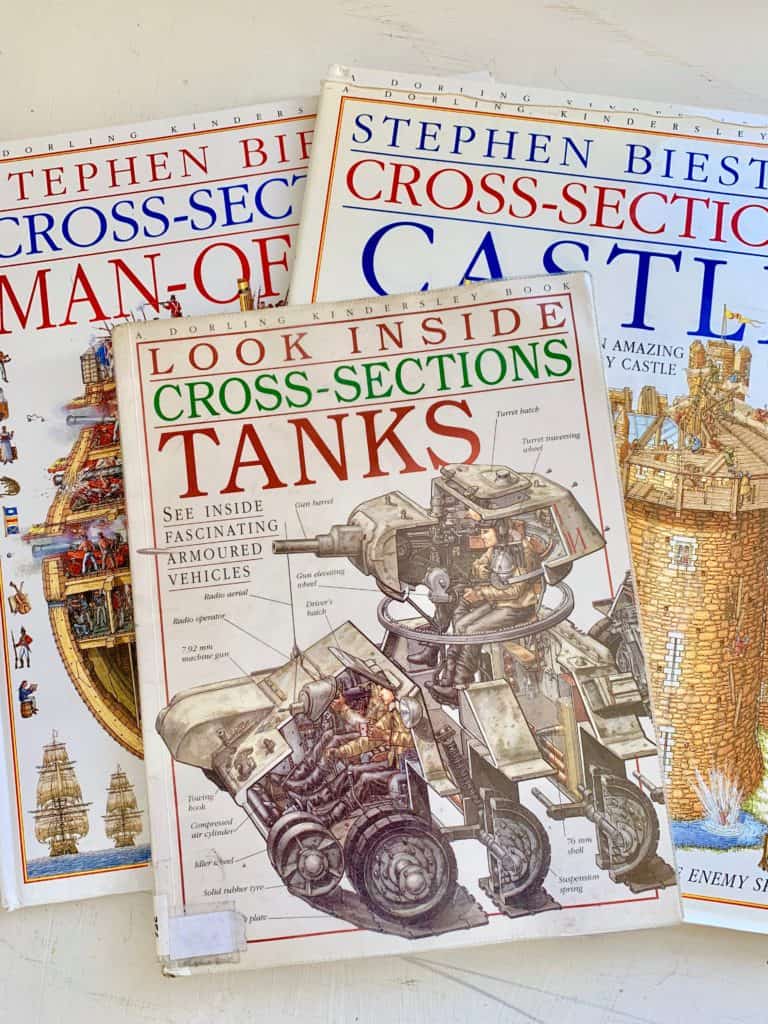 Stephen Biesty makes some of the best high interest books for reluctant readers. Biesty's books appeal to curious kids who love to know how things work.
Warning: Your kids may sit and look at these books for hours!!
The illustrations in Biesty's cross section books are packed full of tiny details about the interiors of ships, buildings, and vehicles. There are lots of fun facts to be discovered, and curious details are highlighted and explained.
These books can be enjoyed by emerging and struggling readers because there is just so much to look at. My kids have loved The Castle and Man O'War books since they were about 3 and have been the inspiration for years of drawings. All of Biesty's books that we own have been pretty much constantly off our bookshelves for years.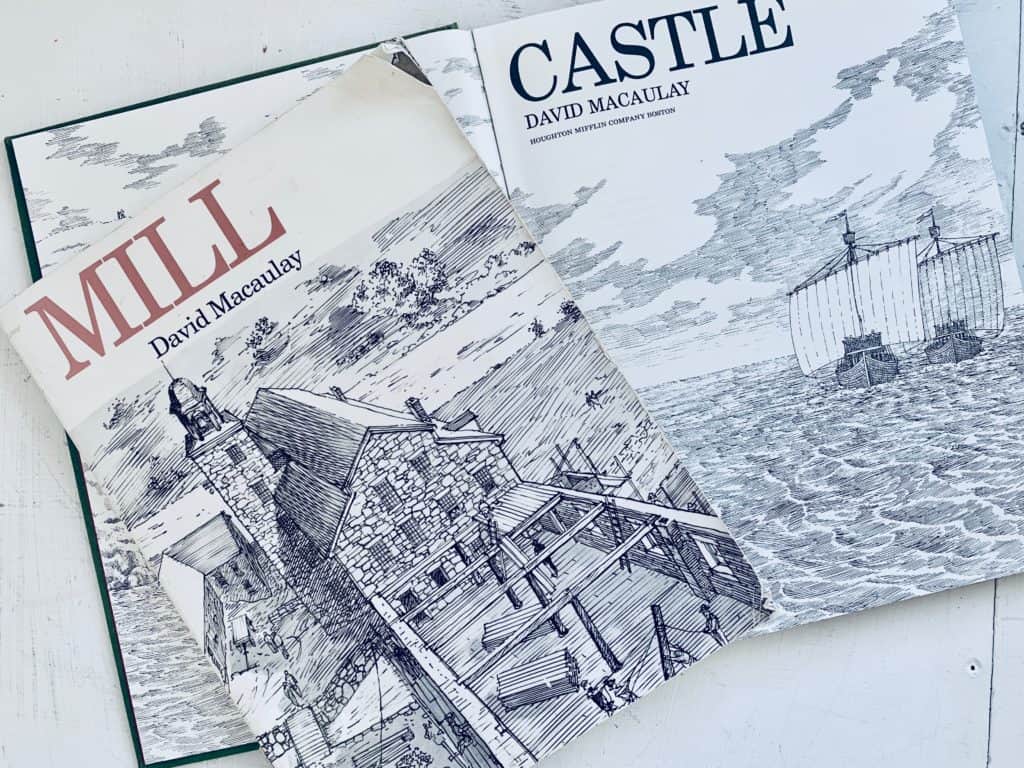 David Macaulay's books are similar to Stephen Biesty's books because they show the detailed inner workings of large structures. Macaulay's style is a bit simpler and his illustrations look like pencil sketches.
His books, like Castle and Cathedral,  chronicle the building process of huge structures from planning to completion.  Macaulay's books are historical in nature, as he shows the building processes of 100 years ago or more. 
We loved his Pyramid, and Mill books also. These books have definitely fueled my kids' passion for building and architecture.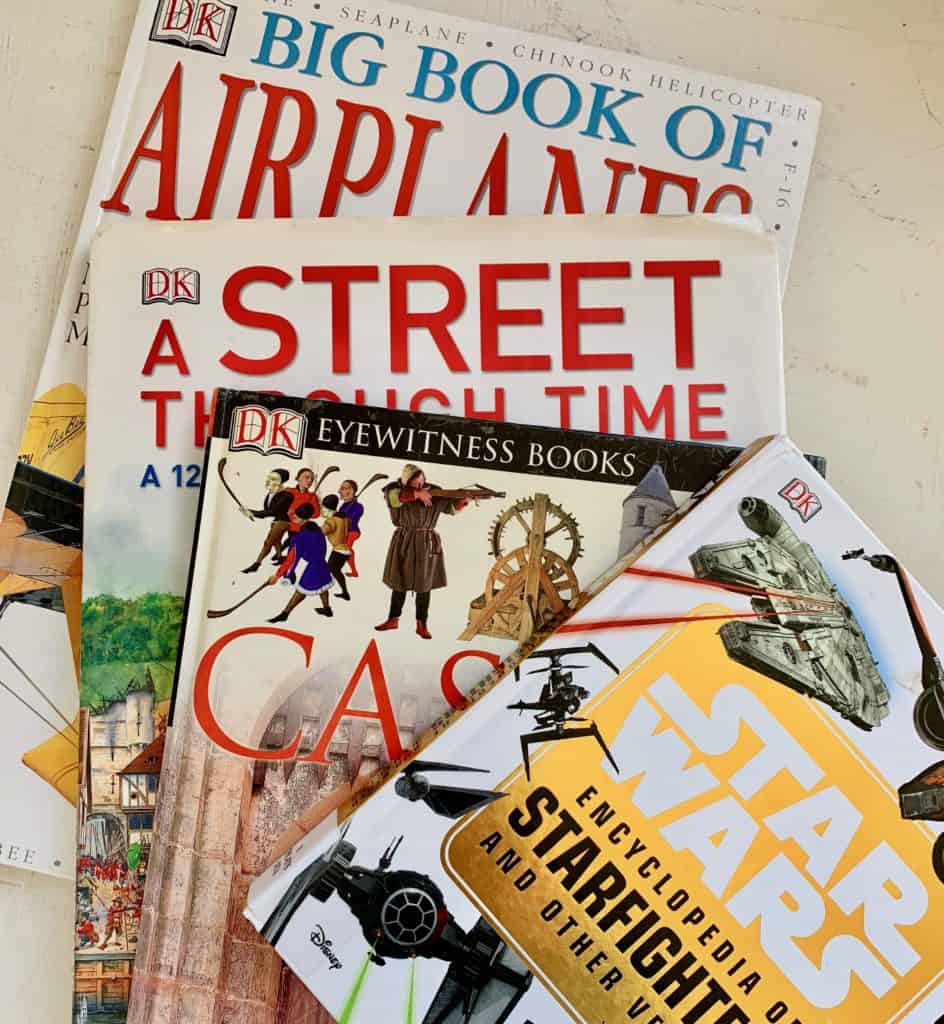 DK Eyewitness Books are classics and so visually rich, your kids will love to just page thru the pictures! My kids loved these book even before they were readers. They'd flip to a random page and ask me to read it to them. Our first favorites were Airplanes, Knight, and Castle. 
We've been collecting these for years – from thrift stores and as gifts for special occasions. My kids' favorites change from year to year as they get into new things.
Now that my kids are a bit older, they love any of the Star Wars books, World War 2, and A Street Thru Time that chronicles the changes on a street thru 1,000 years. 
Both of my boys really love history and are quite knowledgable – these books laid the foundation of their love of people and places.
Related: Reading Strategies for ADHD Kids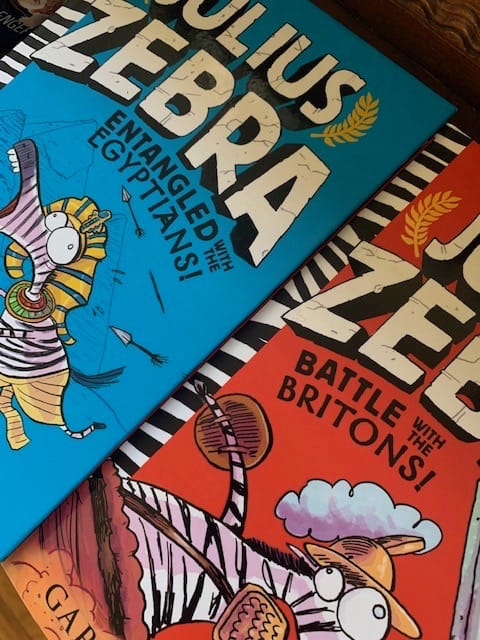 Gary Northfield is hysterical and in my opinion, his books are better than Wimpy Kid! My boys read his first book, Julius Zebra, Rumble With the Romans over and over again and now there are more books (that we just ordered!).
The format is easy to read – the pages are a nice mix of text and illustrations.
The slight hint of historical fiction adds to the educational factor of these books as well. These books make great gifts, too – we have introduced many a kiddo to the Julius Zebra books.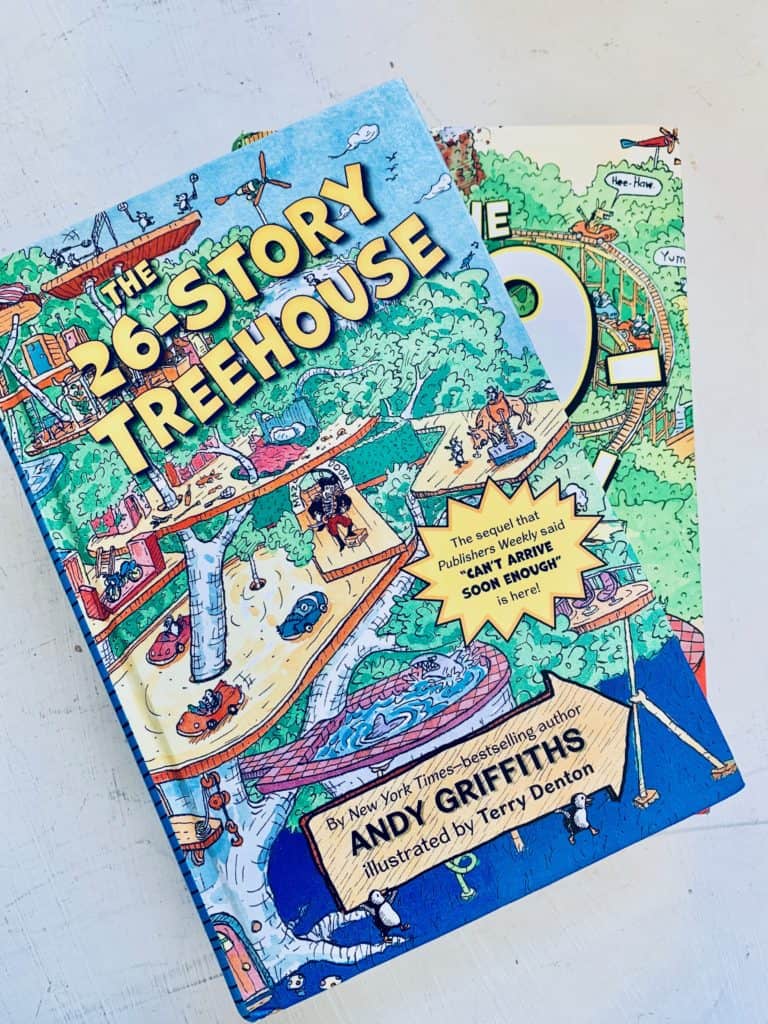 These were some of the first "chapter" books my kids read. They are hilarious (for the 7 to 12 set) and full of imaginative, good fun.
Like the Julius Zebra books, these are heavily illustrated and do not seem overwhelming to kids who may struggle to read. The short pages and hilarious, outlandish story line keep them interested and engaged.
Grab the whole set – they're up to the 130 Story Treehouse now!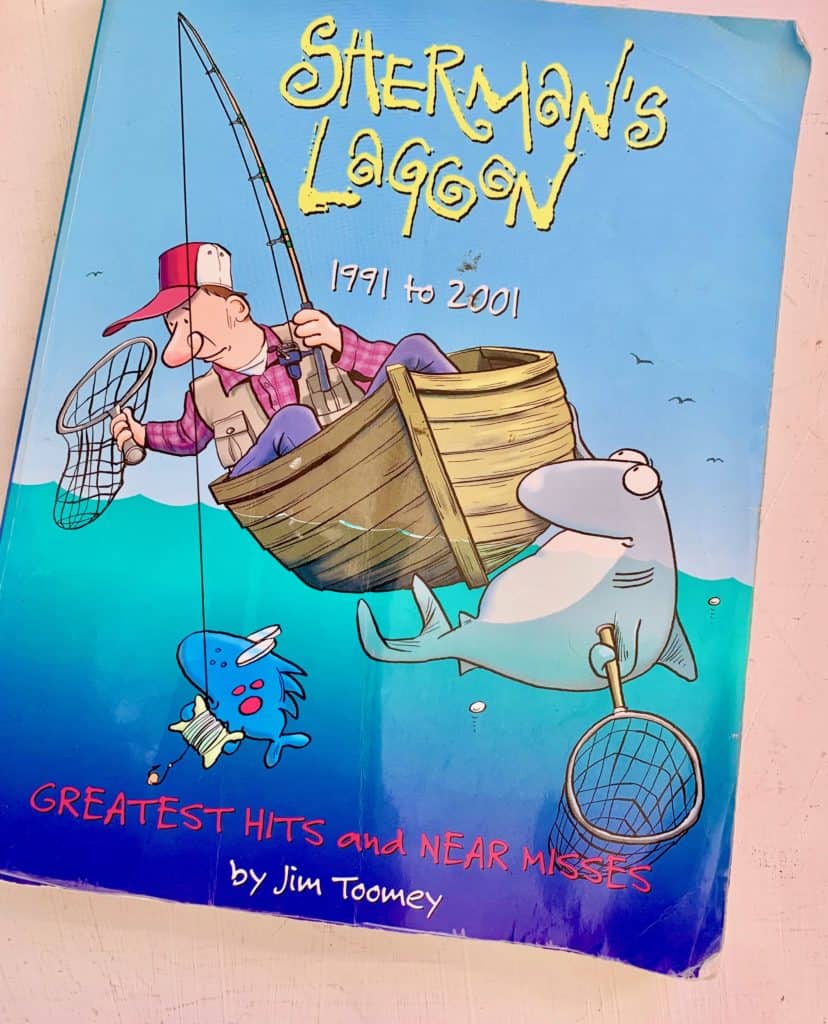 These are great for reluctant readers in middle school. Both of my kids love comics and graphic novels. I think they are great for busy boys and reluctant readers because they are super engaging and not overly intimidating.
Plus the extra visual cues of the cartoon make it easy on the reader.
Sherman's Lagoon is good clean fun, yet, not babyish. Kids can get a quick win by reading even just one cartoon. These make great bathroom readers!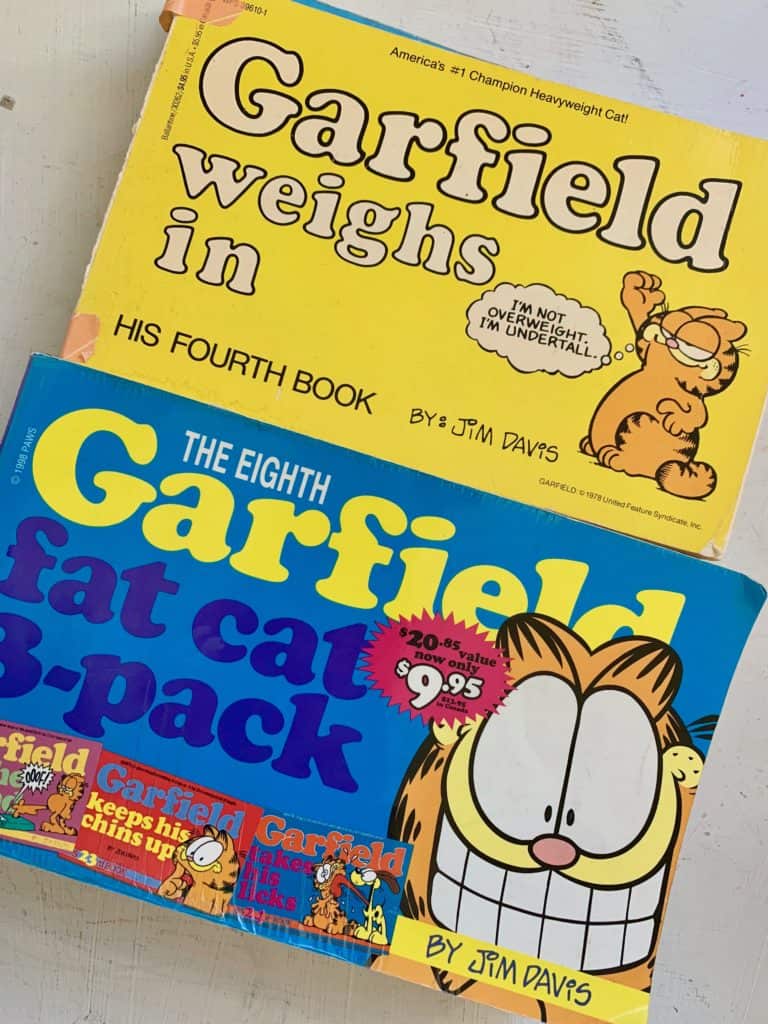 My kids have been collecting Garfield books for about 5 years. Like Sherman's Lagoon, Garfield comics are a non-intimidating way to get kids reading – and they are so funny!!
We have a ton of Garfield books we found at the thrift store – it's something my kids still like to hunt for. Be careful – you might get hooked!!

Nathan Hale's Hazardous Tales is another series my kids just consume!! My boys are history buffs(due in part to these books!) and graphic novel lovers – so these fit the bill.
Hale's books chronicle important people, places and events in history – WW1 and WW2 battles, The Underground Railroad, Grand Canyon National Park – in a very kid friendly and creative way.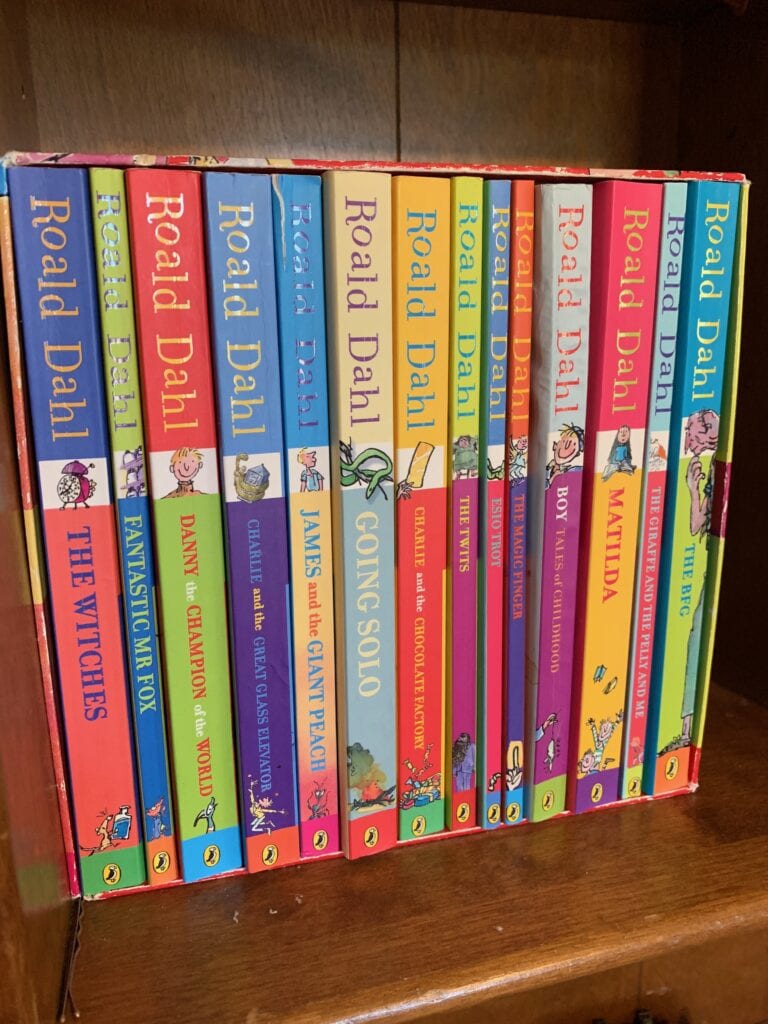 Roald Dahl is a Must For Your Kid's Bookshelf!
Over the years of teaching and mothering, there is not an author out there who captivates children in the same way that Roald Dahl does. If you know him already, you are saying, "Of Course!"
If you don't know him, get thee to a bookseller immediately!
These stories are awesome for read aloud if your kids resist pages of text! They will be mesmerized under your spell!
The great thing about Roald Dahl, is that the kids win out in all of his books and they are infinitely funny and outrageous.
Beginning readers will enjoy George's Marvelous Medicine and Esio Trot, while older readers will love James and the Giant Peach or his autobiography, Boy. 
Or do your family a favor and buy the whole set! Or start with a smaller set, like this one.
I keep updating this post as my boys get older and still read a lot! So here's some more books for boy readers – because now they love to read – but, still have focus and attention issues.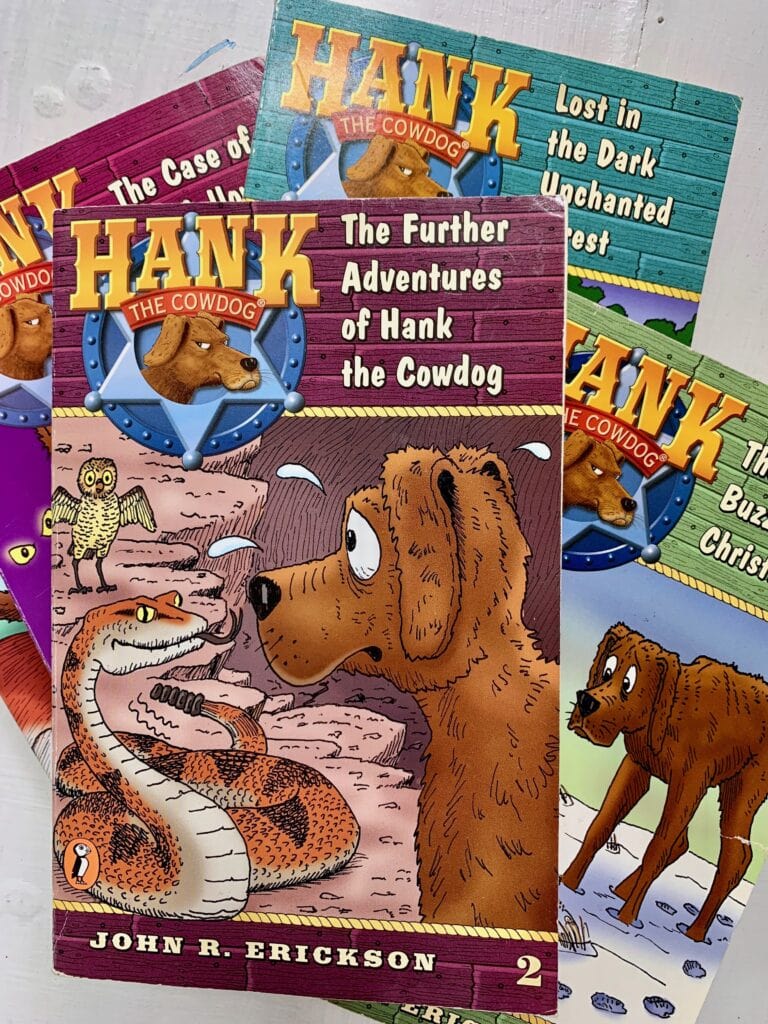 The Hank the Cowdog Series started as a read aloud for our family. Before my boys were reading chapter books, my husband would read these hilarious books aloud to us at bedtime. 
As my boys started to get more comfortable with lots of words on the page, they naturally picked them up. We found many of our copies at thrift and second hand book stores
Hank's adventures on the ranch with a funny cast of characters are super funny and addictive!
Pin for later, there's so many great books your reluctant reader will love!

Try these books for reluctant boy readers and see what happens!
Kids have to see reading as a fun activity in order for them to pick up a book. Like anything with parenting, you just have to try and see what sticks!
Do let me know which ones turn out to be your kids new favorites!
Come on over to Instagram and continue the conversation.
***This post contains affiliate links for your convenience***