Do your kids whine and complain about homework? Do small assignments take an hour to complete?  Do your kids have no sense of time?
Then read on!! I've found a solution – The Best Timer for ADHD!
I wanted to share an absolute life saver for any family struggling with homework time.
I started using the Time Timer for homework this year and it has completely turned homework time around for us! What's great about the Time Timer is that it helps both my sons, but in different ways.
My kids homework "styles" are very different.
One of my kids is a day dreamer. A ten minute homework assignment can easily take an hour if I am not directing and redirecting him constantly. From writing his name to completing the work, to placing it back in his backpack, I often feel like I have to manage his every move.
My other son is a resistor and suffers from time blindness. It takes him so long to actually sit down and do his homework because he thinks its going to be awful or take a lot of time. Somedays he even flat out refuses to do any homework.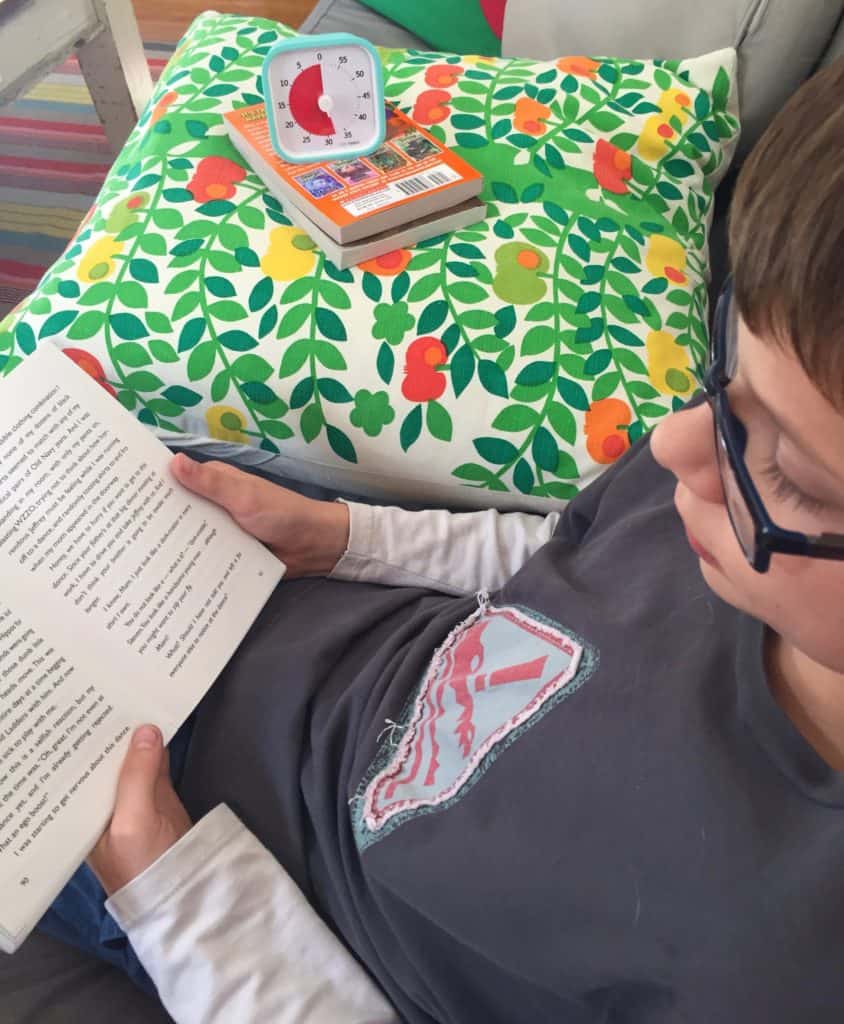 How the Time Timer works for both kids:
The timer's wide swath of red is a concrete visual representation of how much time is left to complete a task. I love that it's quiet and makes no ticking noise. It beeps when time's up and the volume can even be turned off.
Here's how we use the timer for the day dreamer:
Before we get started on a homework assignment, I will ask my son how much time he thinks it will take him to complete the entire task. He will give me a guess and I will set the timer.
The Time Timer keeps my day dreamer on task without constant redirection from me. Homework time has been reduced by at least half.
If the timer goes off and he has not completed his homework, he'll predict how much time it will take to finish and I'll set it again.
I even bought a timer for his classroom and it's used on a daily basis. The Time Timer is written as an accommodation on his 504 plan. His teacher tells me it helps – a lot!
Here's how the timer works for my resistor:
My older son HATES to even sit down and do homework. His "cup" is full from a day at school and even after a break, he whines,  complains and often flat out refuses to do homework.  To make matters worse, he suffers from time blindness and has such a skewed sense of time. In his mind, any assignment will take hours.
So, asking my older son how much time his homework will take to complete would NOT be helpful. Rather we sit in 15 minute chunks of time to see what can be accomplished. The timer allows him to focus for short bursts and shows him the passage of 15 minutes is often enough to get one assignment done.
The Time Timer breaks homework time into manageable chunks for my son. He is not overwhelmed by how much time he THINKS it will take. The timer is helping him to learn that homework, in fact, takes much less time than he anticipates.
A Real Before and After Story
The Time Timer has truly made homework time "no big deal" in my household – which is HUGE. Before we had the timer, homework could take hours to complete – and there might be some yelling or tears in the mix. Some days there was so much whining about it, it just wouldn't get done.
Homework time has been shortened by at least 50%.
The timer is so versatile and works to help many homework issues. It gives kids a real sense of the passing of time and keeps them focused.
Using the Time Timer for Distance Learning
Last Spring, when both of my kids started distance learning, our timer was used constantly! The biggest thing it does for our family is it make both of my kids much more independent.
Being independent is a big deal in a house with a working at home parent and two distance learning kids!
The latest edition to our house is the timer/wipe board combo.  My kids or I can write down a few tasks to done and I can walk away and let them get to it.  It is just so darn helpful!

Other interesting options for the Time Timer:
Time Timer now has an app that turns your cell phone into a time timer. But if you are like me…I need my cell phone in the other room when I work.  An app sure can be handy, but we're sticking to the physical timer for now.
There is also a wrist version…..which is more appealing to me, for sure!
Please let me know if you try the timer or if you have any other homework time advice. I'd love to hear from you!
Please share this post with someone who might find it helpful. I love helping out other families by sharing what is working for us right now.
What else is saving my ADHD Mama life right now?
We love our weighted blanket!! This blanket is saving our bedtime – my son falls asleep in 10 minutes with his blanket. He also gets a much more restful night's sleep with it. It's worth it's weight in gold! Read more about it in this post.
Some of these links are affiliate links. I may get a small commission at no charge to you if your purchase an item with the link. I only recommend products that are worth sharing and have been super successful for us.
Want more about ADHD?
Read about my favorite breakfasts for ADHD here.
Our ADHD Story is in two parts, HERE and HERE. See how far we have come!
In the market for a good parenting read? I share three of my favorites here.