How to Build frustration tolerance in kids with ADHD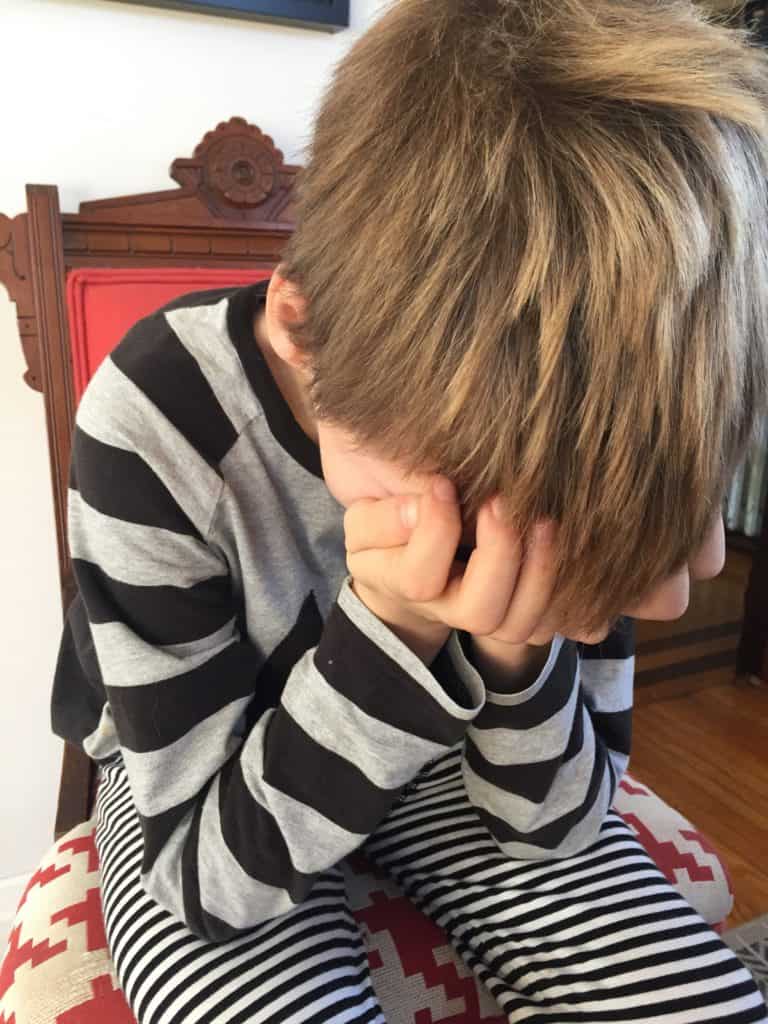 A lovely reader asked me a question about building frustration tolerance in kids with ADHD. My response to her got so long that I decided to create a whole post about helping easily frustrated and angry kids.
It really got me thinking about how easily frustrated my own ADHD kids can get at times. To an outsider, our ADHD kids can come across as spoiled and bratty, having a tantrum over not wanting to do something.
But, we know differently.
Our children are neither spoiled, nor bratty. I always stick to the notion that kids do better when they can. Thank you, Ross Greene!
We need to remember that ADHD is a developmental condition and our kids are simply still developing the ability to process their emotions and deal with them in an age-appropriate way. We need to look at their behavior as being caused by lagging skills.
Kids with ADHD usually lag behind more typically developing kids by up to 30%. I usually think of it in this way – I have a kid who is developmentally about 8, navigating 12 year old issues.
Does your kiddo have a very low frustration tolerance? Do certain uncomfortable or difficult situations send them reeling with anger and big emotions? Do they give up easily when attempting new or difficult tasks? You are not alone! Read on to find some concrete ways to build frustration tolerance in your own children.
Notice when your child is frustrated
The first step is noticing when your child is triggered. It may seem like the incidents are random or happen over just about everything, but you will most likely find some commonality amongst your child's outbursts. It might be helpful to keep track of these moments for a few weeks in a journal or on your calendar
The following list that may help you start to see some patterns:
Common frustration triggers for kids:
Transitions(waking from sleep, leaving the house, going to bed)
Challenging academics – yes, even as young as preschool.
Doing something unfavorable such as chores or homework
Exhaustion or hunger
New social situations, meeting new people or being around certain peers
Breaking from the normal routine
Generalized fear
Not liking what is served for a meal
Think about tackling one or two at a time
Once you get a list of the situations that trigger frustration in you kiddo, choose one or two to tackle at a time.
Pick the situation that brings your kids the LEAST upset and start there. By starting with an easier one to tackle, your kids will slowly feel more confident as they build their "frustration muscles".

Tips for Building Frustration Tolerance:
Tip #1: Talk to your kids about their frustration.
This is straight from Ross Greene's The Explosive Child, a book I highly recommend. His philosophy is built on the idea that when children can do better, they will. Our kids do not want to be "in trouble" or acting out, rather they have lagging skills that keep them from dealing with their emotions in a age-appropriate manner.
So, you must become a detective and try to find out what the underlying problem is. Take some time to talk to your child about a recent explosion, – when everyone is calm and out of the stressful situation.
There is, just simply, no use in talking to your child in the middle of a melt down.
So when things are calm, open with a question like, "I noticed that you had a hard time with your math homework yesterday, whats up?"
Stay open to the answer. It may take many times of asking and being open to talking this through for you kiddo to offer up his thoughts. The big idea here is that you are collaborating with your child to come up with a way to handle their lagging skills.
Related: How I learned to parent my explosive ADHD child
Tips #2: Brainstorm solutions with your child
After you know what the underlying concern is, you can begin to brainstorm solutions. You want to make sure that the solution meets all of your needs.
To go with the homework example from above, your kid may suggest that he just doesn't do his work. Okay, that is a solution, but it probably doesn't address your concerns of him getting an education.
Try not to shoot down ideas, yet. Write them all down, including yours and then go back thru them and see if they meet BOTH of your needs.
Solutions to the homework issue might include: Having a snack first, then doing homework, chunking the homework into parts, trying to get homework reduced thru a 504 plan, sitting with a parent or older sibling to have nearby help, getting a tutor, doing homework at the library right after school.
This stuff works – here's an example from my own life to give you more ideas.
A great example from my own life.
My oldest son refused to clean the litter box – just outright refused. He had been doing this chore without a problem for months. It was strange that he was being so adamant, so I wanted to know more.
In the moment of him refusing, I backed off and did not force him – this would have only escalated the situation. But the next day I opened, with, "I noticed you did not want to clean the litter box last night, what's up?"
After a little discussion, it came out that he did not like going out to the garbage can in the alley because it was now getting dark earlier. He was afraid. This was an amazing revelation for me, because this was something that had not even occurred to me.
This process yields such great information!
We brainstormed a way around it (He could just leave the plastic bag on the porch outside until morning) and now, he rarely argues about this particular chore!! Brilliant!!
Again, Ross Greene's books and website will offer you some great advice and a more step by step approach to his Collaborative Problem Solving model. This was a whole new way of reacting(or not reacting!) to my boys, that it took awhile to understand the process. He also has a great podcast!
Tips #3: Know ahead of time how you'll react.
You know the old saying, "It takes two to tango". Your reaction to your kids' display of frustration can have a huge impact. But in the moment, we can be really triggered and not be our best selves.
That's why it is so important to come up with a few scripted things to say when your child's frustration mounts. A calm reaction to your child's frustration can have a powerful effect and help the situation deflate quickly.
Find a phrase or two that works for you:
"I see you are upset. Is there some way I can help?"
"Why don't you take a little break and go read a bit.(jump on the tramp, go outside, etc.)
"I know you don't want to do your homework right now. Let's get everything set up and ready to go before you take a 10 minute break. Then we will sit down together to work on your homework together for 15 minutes."
"It's not okay to yell at me. I will leave you alone and if you think of something I can do to help, let me know"
"Okay."(walk away) Even when I walk away, I stay relatively close by to make sure everyone is safe.
Be aware – your calmer reaction may take your child by surprise.
This strategy helps me so much – I avoid much of the yelling, the fighting, and the nagging this way. Everyone benefits, especially my son, who is able to keep himself much calmer.
Now, don't think this came overnight for me. There were lots of power struggles and yelling before I came to this. I'm hoping you can avoid some of that by taking a proactive approach.
Tip #4: Work breaks into frustrating tasks.
Offer breaks before, during or after a frustrating activity to help kids get thru it. This helps to show them you understand how hard it might be for them and that you are willing to offer some help. The task may not seem so ominous if it can be broken down into several parts.
We all know that starting is the hardest part.
Taking breaks can help chunk the activity down into doable steps to make it more manageable. Breaking homework down into 15 minute sessions has been a life-saver for our family. Which leads us to the next tip:
Tip #5: Set a timer.
ADHD kids usually have some degree of time blindness – they think things will take much longer than they actually do. My son's frustration plummets when he knows he can sit for smaller amounts of time -15 minutes for homework, or practice his baritone for 20 minutes. This timer is great because it provides a visual representation of time and it gives my kids a growing sense of time!
We have one at home and one at school! I think we use it everyday. It's also been a life saver for limiting screen time(WooHoo!!).
Tip #6: Set up a routine.
The more you can work frustrating activities into your regular routine, the easier it is for kids to just accept that they are happening and the less frustrated the get over time. Routines just become a habit and something they "just do" – it takes the surprise element out of an undesirable activity.
Routines work well for recurring activities, like chores or practicing an instrument.
Routines are a great thing to work out collaboratively with your kids and write down on a family calendar for all to see.
We have a weekly meeting to discuss our family calendar. My kids write down their events and responsibilities, like chores or practicing an instrument. My boys are less likely to complain because they chose the routine.
Routines work really well in our family with household duties. Saturday morning is family chore time. The litter box always gets cleaned at night. The floor is swept after every meal. I get little push back now because these have just become such a part of our daily or weekly routine.
Tip #7: Do the activity with them – for awhile:
Helping your child to get thru a frustrating task can grow their confidence and help them to eventually be able to do the task on their own. Look thru your list of difficult triggers and see if there is some way you can assist.
I sit at the table while my son is doing homework. When it's time to clean the dreaded bathroom, I usually clean the bathtub while my kids do the sink and the toilet.
Both of my kids are much more compliant if I keep myself close. I don't want them to rely on me all the time, but this is a great step in the right direction.
Tip #7: Play games together as family!!
Many kids get easily frustrated over games. Whether it's complicated rules, or fear of loosing, games can cause a rise in frustration for many kids.
This has never been a particularly trying activity for either of my kids, but I do think that by playing a lot of games as a family, we have upped my kids ability for frustration, in general.
By using an activity that is seen as fun and playful, it may lessen frustration and teach them how to deal with these feelings when they bubble up.
We've slowly chosen more challenging games or puzzles as my kids have gotten older. Modeling proper sportsmanship helps, as well as playing in teams to lessen the blow if loosing causes too much frustration.
Start with more cooperative games, like this one or this one before moving on to more challenging ones.
Our current favorites are Labyrinth, Cat Crimes, Oregon Trail, Sorry, Payday, and Memory.

Tip #8: Avoid the power struggle.
Somedays nothing seems to works and I just answer "Okay, maybe later" to my son's defiance and just walk away. Very few things are worth getting in a power struggle over.
The wonderful thing is that 9 times out of 10, he usually comes around and approaches me about doing whatever he refused to do earlier.
Kids with ADHD can be impulsive and often say or do things without even realizing it. It can take them a bit of time to mull over the situation and realize that what you are asking is not that bad or too difficult.
Tip #9: Stop arguing with reality.
When we argue with reality we set ourselves up for failure. It's just not realistic to think my son's outbursts of frustration and emotion won't happen.
Remember that this is a stage that your kids are going thru. The stage may be lasting longer than your thought or perhaps you imagined it would be over by now, but again, ADHD is a developmental diagnosis.
I know that certain situations will be difficult(returning to school after a vacation, cleaning bedrooms, etc.) and I have no illusions what so ever. I prepare myself with my calm scripted reactions and do the best I can to help my kids (and myself!) get through it.
Parenting an easily frustrated kiddo takes patience, understanding and time. Things may not get better overnight, but once you find the best way to help your kid work through his triggers and build that frustration tolerance both you and your child will feel more confident.
You can do this!!
Remember, there is nothing wrong with your child. It's all about working together to building those lagging skills.
I'd love to hear what works for your family. Please leave a comment to connect and help other families in this season of life.
Pin for later!