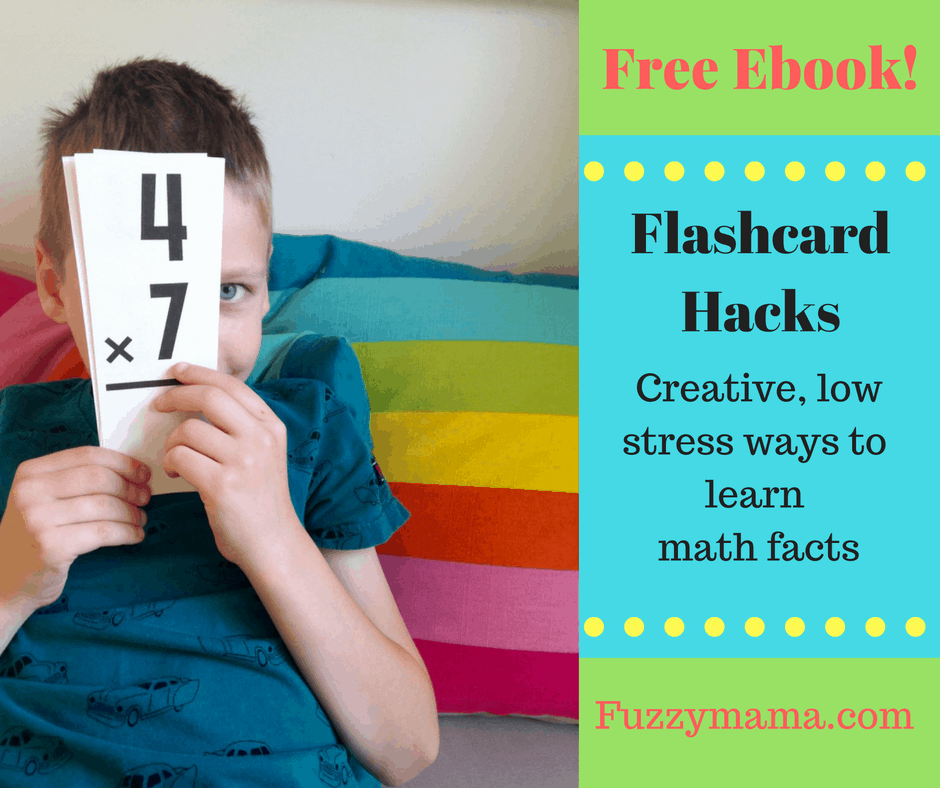 I am so excited to be giving away my newest mini ebook: Flashcard Hacks: Creative and Engaging Ways for Kids to Learn Math Facts. The ideas in the book have really helped us navigate the waters of learning math facts–a trip that can become very pressure filled and stressful for some kids.Grab the free ebook in the sidebar or at the end of this post. 
Learning math facts for my kids prompted grumbles and even tears. My kids hated flash cards. Each time I would try to practice their facts with them we'd all end up miserable.  I kept trying the same thing and got the same results— complete and utter failure on my part.
I had to get creative and began to think of flashcards in a whole new way. Our whole experience with flashcards did a 180. My ideas are compiled here for you to try with the kids in your life. These are time tested and kid-approved. Once I saw success with my own children, I started using these "hacks" in my classroom and got great results.
Included in the book are 14 different ways for you to use flash cards that are super effective. I hope you find them as helpful and engaging as we have. Remember to do them with a light heart and a fun spirit. I suggest that you practice in short sessions (10 minutes or so) and do them several times a week until the facts have been pretty much mastered. Many of these can be done in the car or in quick pockets of time anytime of the day. Modify as you deem necessary to fit your child's needs.
Download your copy here!   If you know of anyone who would find these ideas helpful, please pass along the word and they can download one for themselves. Also, I LOVE feedback.  Let me know how it goes!
SaveSave