The Best ADHD Friendly Candy & Treats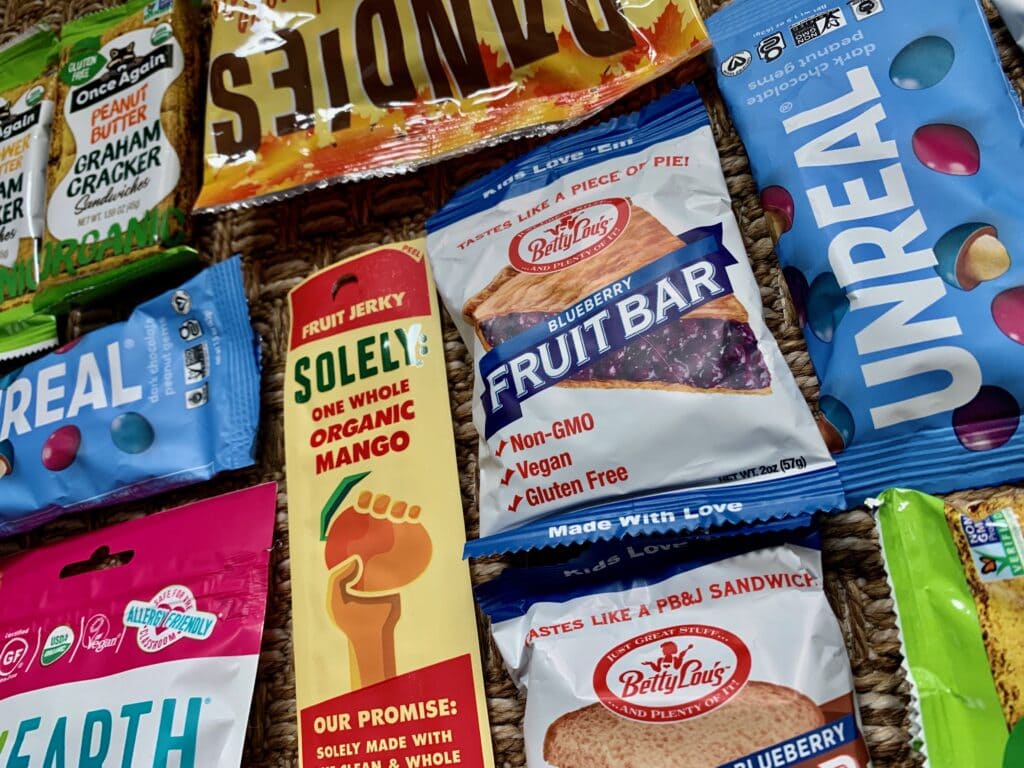 You may be wondering if candy should be a part of an ADHD Diet for Kids.
The answer is a resounding, "Yes!"
And it comes with a big, "But….."
There are some healthy candy and sweet treat options out there that are ADHD Diet approved. We've sifted through much of the junk and found some of the best ADHD friendly candy out there.
Can ADHD Kids Eat Candy?
A lot of sugar is not a good idea, whether you have ADHD or not.
But, withholding all sugar – especially as your kids get older and are making choices without you around – is just not feasible.
Rather, we want to educate our ADHD Kids about the best kinds of treats and candy without all the yucky stuff that can harm their health and increase their ADHD symptoms.
As parents we want to show them what ingredients to avoid teach them healthier alternatives consumed every once in awhile is okay.
Why Do ADHD Kids Crave Candy?
A simplified answer to this question is this: Sugar raises Dopmaine (our feel good chemical) levels in our brain. Consuming sugar can make ADHD kids feel great – something they might not be used to because Dopamine levels in ADHD kids are usually low.
The impact of eating a lot of sugar, however, is not great. When we consume too much sugar, our bodies simply crave more, which does a number on our self-control.
Eating too much candy and sweet treats triggers our reward response system in the brain. Foods that cause a higher elevation in blood glucose produce a greater addictive drive in the brain. Meaning we just keep wanting more and more and what satisfied in the past, will not be enough anymore.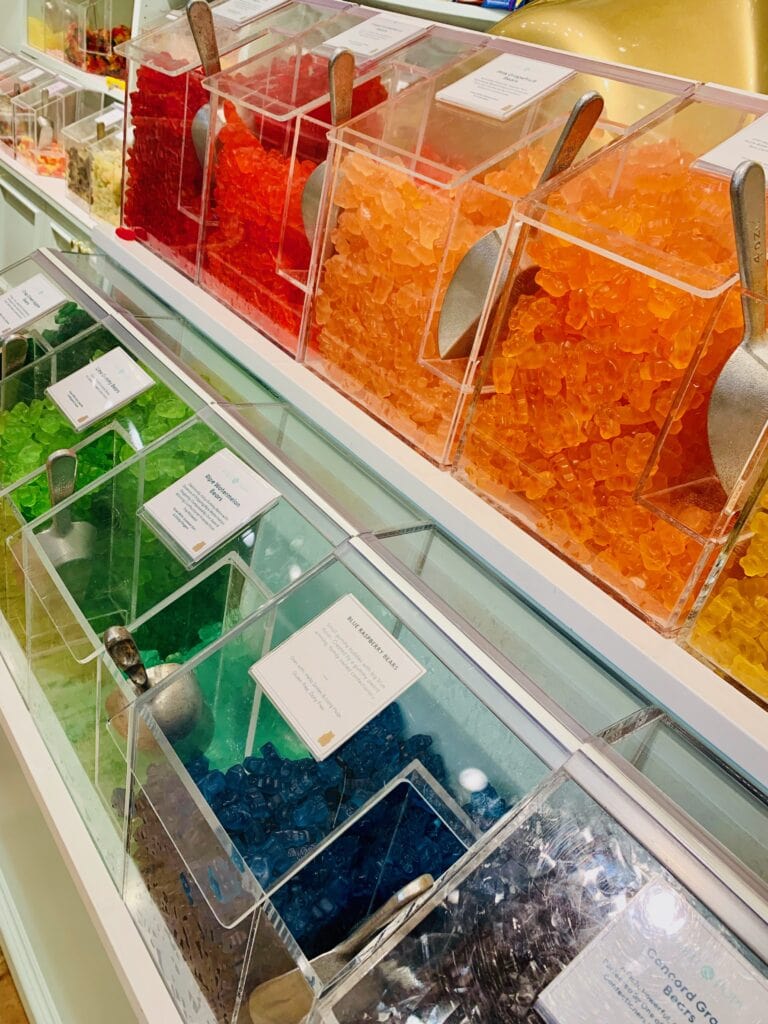 Does Sugar Make ADHD Worse?
Many studies show that consuming sugar can increase ADHD behaviors. Yet, others argue there is no correlation between the two. But, it's not just the sugar in candy that you have to worry about.
Quite possibly what could be causing an increase in hyperactivity is not the sugar, but the artificial dyes and preservatives and highly processed corn syrup that is in most of the candy out there. It's important to read labels to make sure the candy your ADHD kids consume is free from dyes, like Red 40, Blue 1 and 2, and many, many more.
What Should I Look for in ADHD Friendly Candy ?
You may be really nervous to give your ADHD child any sweets at all, knowing most of the sweet stuff out there contains corn syrup, artificial dyes and countless preservatives.
It's important to read the labels when you are searching for healthy alternatives in the candy aisle. There are many ingredients you should avoid completely like:
Corn Syrup (there are many other names for it to be aware of, too)
Artificial dyes, like Red 40, Blue 1, Blue 2, Yellow 5, Green 3
Artificial flavors
Artificial preservatives like Nitrates and Nitrites, Potassium Bromate, BHA, BHT, and TBHG and more!
How can I identify ADHD Friendly candy ?
An easy, and pretty fool proof way to tell you are getting a better alternative is to look for Organic products. The USDA Organic labelling process requires organic foods to be free from artificial dyes and preservatives.
Products who have gone thru this process are going to have the "Organic" labelling front and center on their products.
Organic candy and sweet treats are going to cost more, for sure. Paying a bit more for better products is okay when it comes to sweet treats, because even these "healthier alternatives to candy" should make up a very, very small portion of your diet.
Healthier Alternative Candy and Sweet Treats for an ADHD Diet
This is really just the tip of the iceberg when it comes to alternative, ADHD friendly candy for an ADHD Diet. Look for these and others at healthier stores, like Whole Foods or Fruitful Yield, and of course, on Amazon.
Yum Earth Lollipops and Licorice
Yum Earth is a fabulous brand that has many options for healthier sweet treats. These lollipops are a favorite because of their size and portability. Look for Yum Earth's delicious licorice which qualifies as an ADHD friendly candy, as well.
Great for car trips or long waits at the doctors office or for the occasional lunch box treat. We love to share these with friends, too!!
Tree Hugger Bubblegum Lollipops
I love the name of these almost as much as my kids love to eat them. Tree Hugger Lollipops are a fun alternative to other bubblegum pops.
You can get them in a nice big box on Amazon or check your local heatlh food store to buy them individually.
Betty Lou's Fruit Bars
Betty Lou's Fruit bars are amazing!! They taste just like pie, have real fruit filling and are very portable. These delicios pies come in many delicious flavors like blueberry, cherry and strawberry.
Great for lunches and on the go, these ADHD friendly treats are gluten free, vegan, and Non-GMO.
Lily's Chocolate Bars
Less Sugar. Sweet Life. What a great tag line for a chocolate treat. These do have dairy, so they are a once in a blue moon treat for us, but I love that the company uses Fair trade chocolate.
Lily's chocolate bars are lower in sugar and super delicious. They have a few dark varieties and Peanut Butter Cups, too.
Wait there is lead in dark chocolate!!! A recent Consumer Reports study found that many of even the organic brands of dark chocolate have high levels of lead in them. This article will put your mind at ease but, I would avoid dark chocolate if you are pregnant or for very small children. Be smart about it. None of these items should be consumed on a regular basis.
Unreal Chocolate Gems
Unreal Chocolate Gems are just like your old favorite candy gem's but without the artificial dyes and preservatives. Unreal has many varieties as well, like peanut, dark chocolate and milk chocolate.
Make your own healthier snack mix by adding these to peanuts and raisins for an extra special lunch box treat.
Dandies Marshmallows
Marshmallow lovers unite!!! Dandies marshmallows are amazing and contain no corn syrup or animal products. These are delicious.
Dandies comes in a few flavors – some of which are seasonal. My kids love to just eat these plain, as a treat. But they can be used in any recipe, just as other marshmallows or as a perfect hot cocoa topper.
Sweet Loren's Cookie Dough
Seriously? "Ready made to eat as dough" that is gluten free and dairy free??
Fair warning about Sweet Loren's Cookie Dough – it is so delicious and I have to admit that we have never baked it! The dough is in ready made, "chunks", perfect for popping onto a cookie tray to bake or to just pop into your mouth.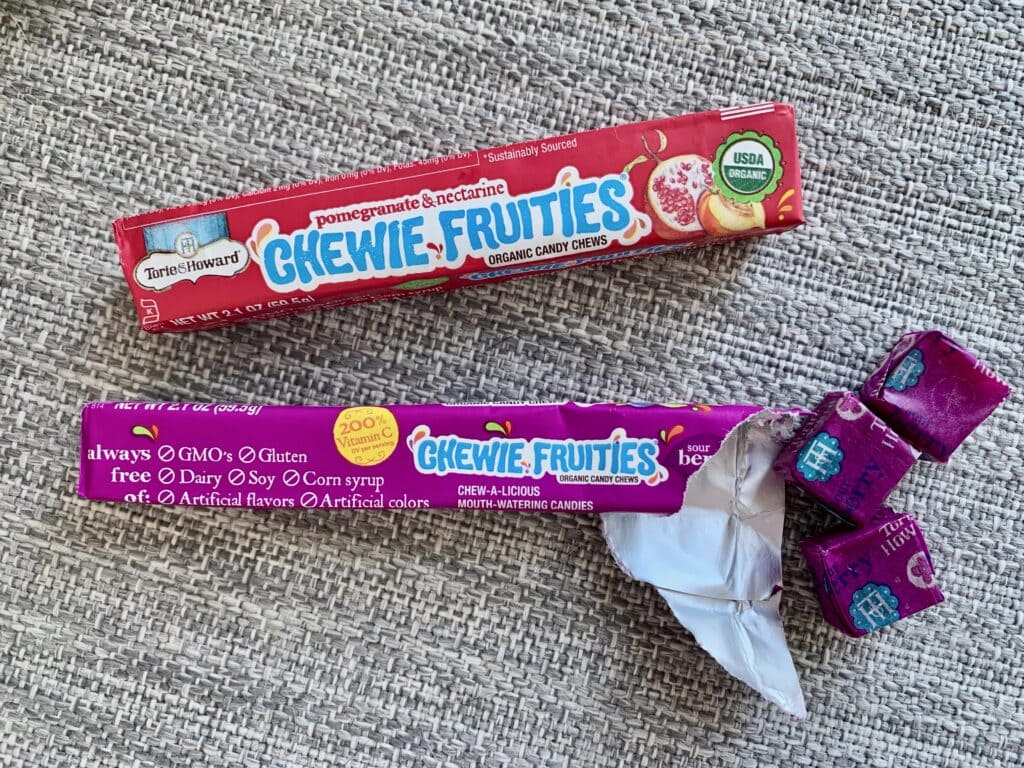 Chewie Fruities
Torie and Howard's organic fruit chews are free from dairy, soy, corn syrup, gluten and artificial flavors and colors. These sweet fruity chews come in Original and Sour flavors. Try a variety pack to see which are your favorite.
I love this bulk option with individually wrapped servings – great for the occasional lunch treat.
Chewy they are, too!! These take some time and effort to eat…but they are super flavorful, no matter what kind you get.
Smart Sweets
Smart Sweets are chewy and delicious gummies with only 3 grams of sugar per serving!! These come in a ton of flavors, like
If you can't decide, try this variety pack with 2 packs each of the four flavors.
Looking for other ideas for following an ADHD Diet for Kids?
Check out our ever popular Lunches for ADHD post and our Best Snacks for ADHD post.