We have always been a snacky bunch, but as my boys with ADHD get older, and I get smarter, I am a bit more fussy about the snacks I buy for my family. These Snacks for ADHD are just the Best I've found.
My requirements for snacks are quite stringent.  I know that what goes in to my boys' bodies significantly affects their ADHD symptoms and general well being. I want snacks that will tilt the odds in their favor and give them a leg up on their day.
After about five years of trying loads of different snacks, I believe I have found the best snacks for ADHD. Now let me explain:
Obviously the best snacks are whole foods, like fruits and veggies, hummus and nut butters.  But for this post I am sticking with things that are packaged for the ultimate ease. My kids love one packaged snack in their lunch, so it looks at least a smidge like the Standard American Lunch.
Nutrition-wise we are gluten free, corn free, soy free, and  dairy free. Our snacks need lots of protein and  very little sugar. I prefer there to be as few ingredients as possible and no refrigeration needed so it possibly can sit in a car or a backpack for a few days and still be edible. Here's our list of the best snacks for ADHD! 
Related: ADHD Diet 101: The Basics and How to Start
This post contains affiliate links for your convenience. 
 What are the Best Snacks for ADHD ?
I love that these are so simple and packed with protein(12 grams!). The ingredients are listed right on the front of each RX Bar.  The bars are chewy and no super sweet. Our fave is Chocolate Sea Salt, but there are 9 super flavors.This is a local company for us, so I love to support them.

 Clif Kid Protein ZBars 
Clif Kid Bars are a great place to start if your kids are used to super sweet snacks. They do have more ingredients than the other snacks, including some processed sweeteners.
But they also have  5 grams of protein and my kids LOVE these, especially the chocolate mint flavor. Clif Kid Protein Zbars are the cheapest on this list.  They make a great snack when you are transitioning to a healthier lifestyle.
These are new to us and we LOVE them. The 4 grams of protein per serving is a great bonus, too, as crunchy, salty snacks usually do not have  any protein. I usually find them at CostCo, but Hippeas can be purchased online and in grocery stores in individual bags that are great for easy packing.
Bonus for sensory seekers: Hippeas are very crunchy and provide some great sensory input, to make kids more alert, as well. Great for nut free schools!
Related: The Best Lunches for ADHD
Budget Tip: We are on a tight food budget and these can be expensive. And my teenagers can easy put away an entire bag in one sitting. So, I portion them right away in baggies, so they are easy to grab for lunches. 
These protein bars are a bit more of an acquired taste – definitely not a candy bar substitute. GoMacro's are higher in calories and with 11 grams of protein can be a bit more of a meal replacement, if necessary.
My  kids did not love these at first, but now that we are very low sugar, these are yummy for them! Their favorite is Peanut Butter Chocolate Chip.
Update for 2021: My picky teenager, who eats very little in the way of meat, LOVES these and I am happy about that, because GoMarcoBars are a great way to get a decent amount of protein into him. His new favorite is Oatmeal Chocolate Chip.
These crunchy snacks are super tasty and also have the unexpected protein in a salty snack. My kids rarely stop at the suggested serving size, so they are getting 5 to 10 grams of protein when they eat these.  Peas Please are great  for a nut free option, too.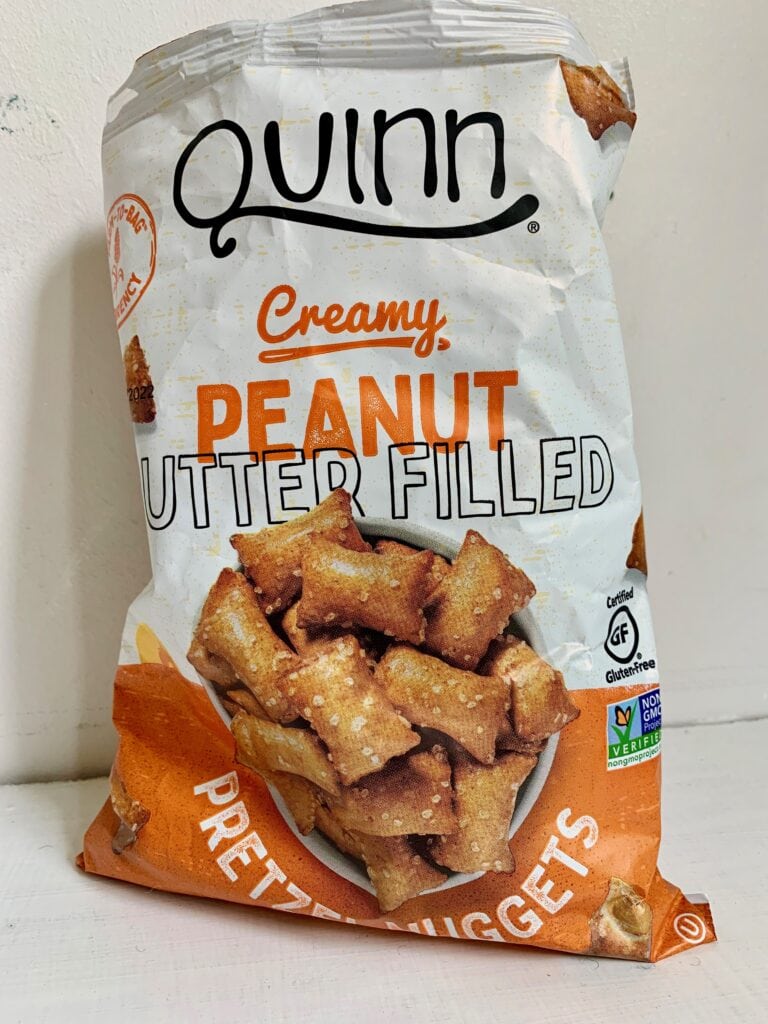 So these are amazing and the only GLUTEN FREE Peanut butter Pretzel I have found. It's the salty sweet thing that is so appealing with these nuggets of deliciousness. 
These can be super pricey, so look for a sale OR order them from Imperfect Produce, like we do. They are consistently the lowest price I can find on Imperfect.( Use this link and you'll get 80 bucks off your first three orders and I'll get a small commission ! )
These easy to pack snacks are a new favorite. My son took Justin's Almond Butter Packs to camp this year and now he is hooked!
Each packet has between 6 and 8 grams of protein and 3 grams of sugar or less.
They are easy to open and squeeze right into your mouth! Surely these will be a staple in lunches this year. Justin's has many flavors, but our favorite so far is the Maple Almond Butter.
Naturally, my favorite of the bunch is also the most expensive. These are delicious and really filling. MunkPack Protein Cookies  are big and really are nearly a small meal – except if you are a teenager, then it's just a snack.  
The protein is plant based, there's no soy, gluten or dairy, so Munk Packs  meet my toughest requirements. I literally have to hide these, because my kids will eat two a day, they are that delicious!
If you live near a Sierra Trading Company, check them out! I often find these at deep discounts on their shelves.
This perfect ADHD Snack is very filling and packed with protein. You can get these at Target and they are often on sale(yeah!).We love the vanilla almond and the chocolate mint.
Dairy note : My kids can tolerate the whey protein (a product of milk) as it is an easily digested form of protein.
These nut free protein bars will be a staple again because my youngest is going back to  a nut-free Montessori school. Without nuts, our bar options for school lunches are limited, so we will be putting the Sunflower Cinnamon bars  back on our Amazon Subscribe and Save list.
Rise Bars have 15 grams of pea protein and are delicious!  Rise offers many other peanut free options, too.
These are delicious and quite new on the snack scene. Like the RX Bars, these nut butter packs list the ingredients right on the from of the package.
Each pack has 9 grams of protein and are easily eaten on the go.
We have tried all the flavors and love each one! These almost resemble cookie dough. You have to try them! These even go into my lunch, they are so yummy.
This nut free snack is brand new to us this year and have quickly become a favorite.  These are great for nut free schools, have tons of protein, plus are filled with copper, magnesium and zinc – all great minerals for ADHD.
I first got them in my Imperfect Produce box at a steep discount.  When I can't get them in my weekly box of bargain organic vegetables, I order them on Amazon.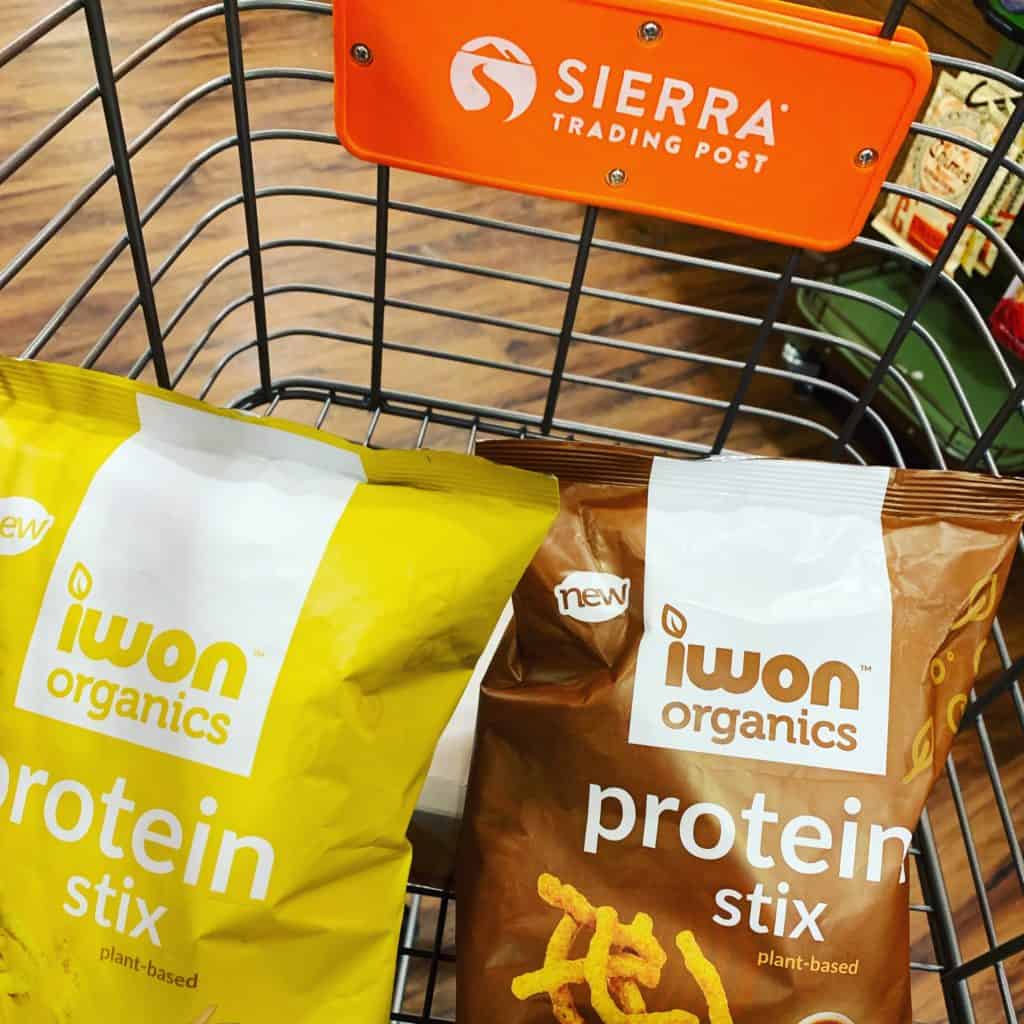 These crunchy snacks are also new to us. In fact, we first got them on clearance at Sierra Trading Post ( a TJMaxx/Homegoods company) and my kids loved them. They are tasty, plant based snacks that look a bit like Cheetos, but have 5 grams of protein per serving. 
These snacks for ADHD are so yummy and have just one ingredient — BANANAS!! Besides tasting delicious, these are VERY crunchy and so, have the added benefit of the proprioceptive input.
Foods that are super crunchy – think carrot sticks, nuts, and now, these  crunchy chips are meant to waken up a child's senses, making them more attentive. These are on the sweet side and serve as a bit of a treat, too.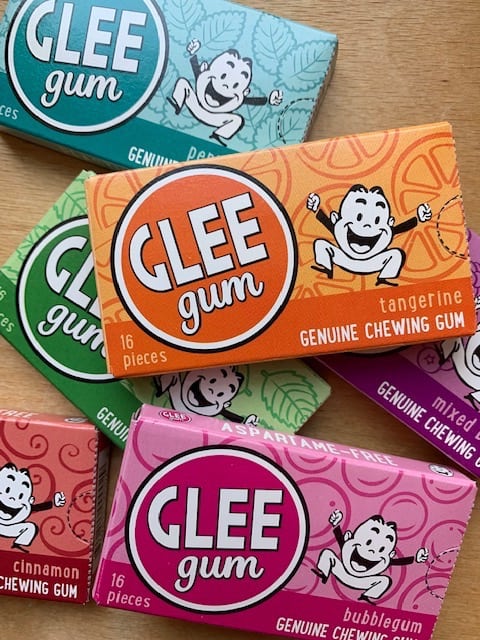 My kids both are big gum chewers….they have accommodations to chew in school because it helps them focus so well.
Glee gum is all natural with none of the pesky fake sweeteners  – and it's plastic free!!  I didn't even realize other gum contained plastic!
We get the multi-pack from Amazon, but it's available at Whole Foods, too.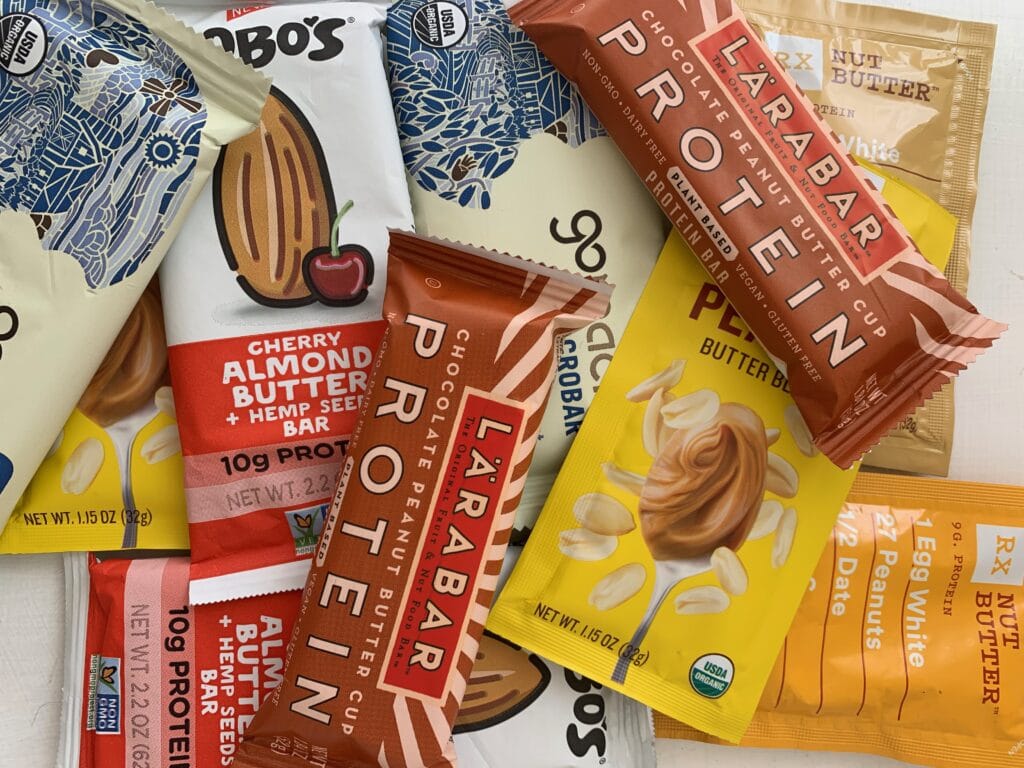 These pack much more protein than their nut free alternatives we have been used to. They are also great for having low sugar. 
Similar to other nut butter packs, these are low in sugar and great for on the go energy. I find these on sale at Sierra Trading Post all the time.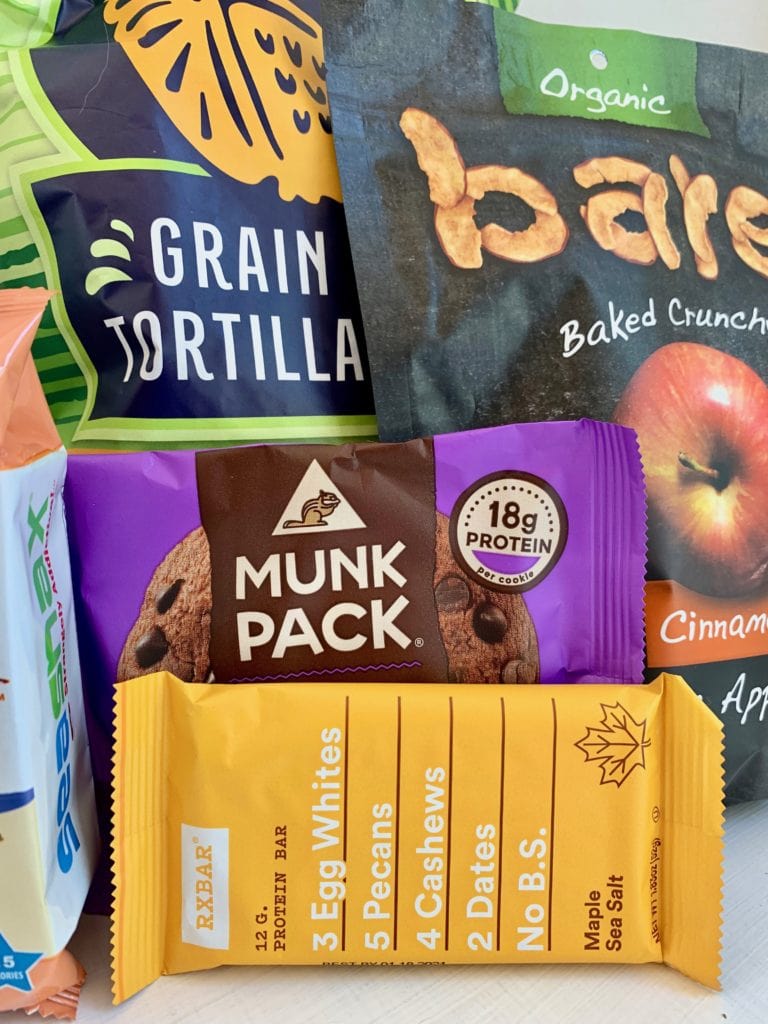 Curb the Distance Learning Snacking 
Are your kids eating you out of house and home during remote learning or just because? 
I couldn't believe the amount of food we went thru in three months, last Spring, when we were first quarantined! It was pretty much a free for all because it was all so new and I was working from home, too. My kids grabbed whatever they wanted, whenever they wanted. 
This year it will be different. It has to be different.
Our budget can't handle it, but I won't scrimp on the quality of our food either.
This year I will be more prepared:  
Our breakfast will be packed with protein and void of sugar.
Fruits and vegetables will be prepped and ready for hungry hands.
My kids will help in the cutting, chopping, slicing and dicing. (Thanks Kids Cook Real Food!)
My kids will be encouraged to drink water all day, helping to curb appetites.
Packaged snacks will not be as available and when they're gone, they're gone until the next trip to the store. 
 Simple, I know. But very effective at getting my kids to eat real food. 
If kids are truly hungry, they will eat real food.
Help!! These Snacks for ADHD are pricey!!!
Yes, the best processed foods are pricey. Here's how we handle that:
These snacks are only eaten on the go . Snacks at home consist of fruit and veggies with dip or leftovers, peanut butter sandwiches on g-free bread, sweet potato chips, olives, etc.
I shop with Amazon's Subscribe and Save feature.
I buy snacks in my weekly Imperfect Foods Box
I use the Prime app at Whole Foods.
I check HomeGoods food section and find some of these options there.
Target often has sales on some of these items, as well and they find themselves on the end caps on a fairly regular basis.
I only put out a few at a time and hide the rest(literally, I have a bag in my car!)…my boys would eat three a day, if they were available to them!
Do let me know if any of these already rank as one of your faves. Try one or two and let me know how your family likes them.
Some of these links are affiliate links. If you purchase an item using a link I  may get a small payment at no extra cost to you.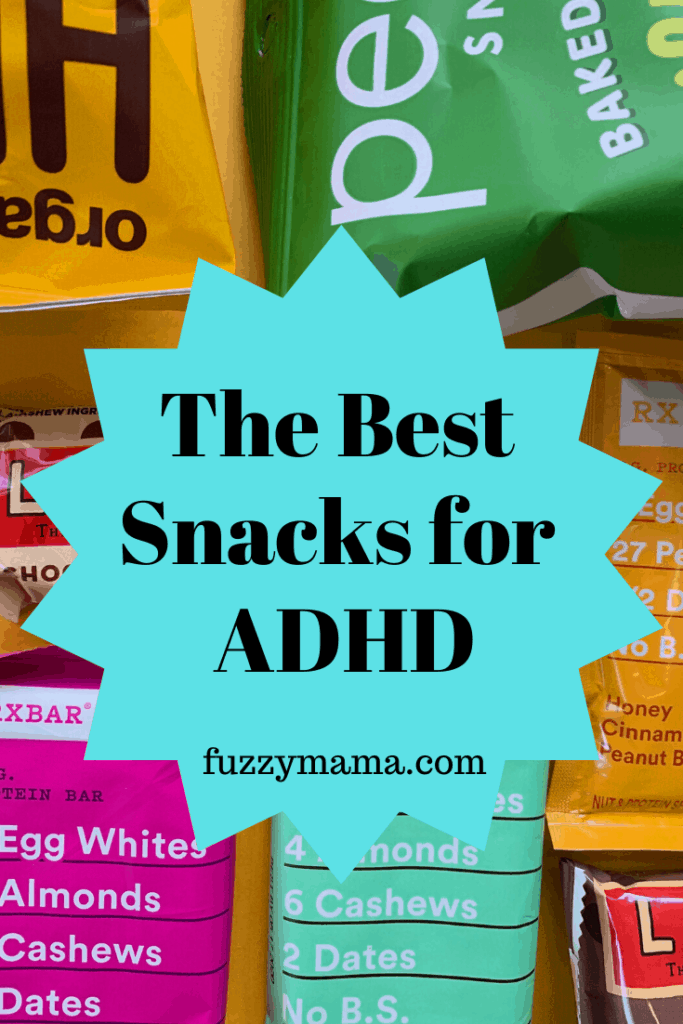 Need more food ideas for ADHD?
If you want to make snacks from scratch, Here's our favorite snack cookbook.
Learn about our Best Breakfasts for ADHD HERE.
I've listed 75 of our favorite ADHD diet approved meals, HERE.