9 Awesome Resources for ADHD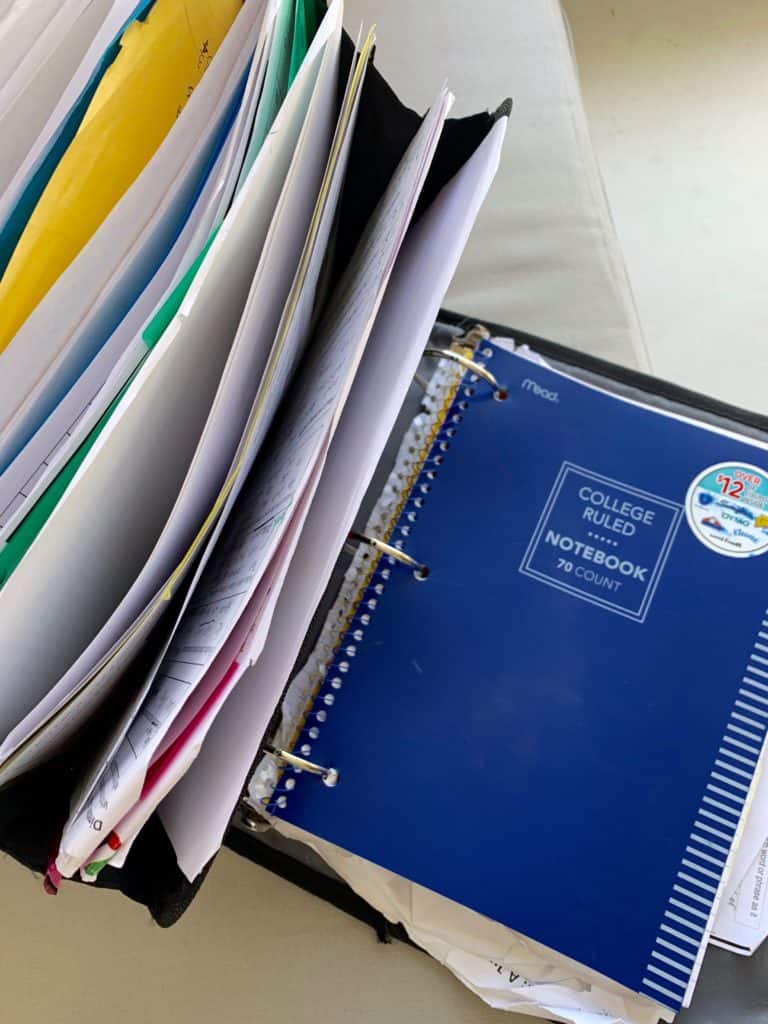 This post shares our very favorite (like, I can't live without 'em) ADHD resources in this season of our lives – with two teenage boys with ADHD. You can see the bigger list of resources here.
I know dealing with an ADHD kid is so much more than finding the right products. It takes an enormous amount of patience, compassion, and stamina to raise a kid with ADHD. But truth be told, sometimes I land on a resource that makes life a little easier.
Here, in no particular order are my favorite ADHD resources.
Katie Kimball's Cookbooks
Katie Kimball's cookbooks (I have all 7 of them) have been my most used cookbooks over the past 8 years as I navigate following an ADHD Diet for Kids. I use them literally on a weekly basis and have some of the snack recipes memorized.
As my kids get older, they get pickier with food.
They also are nearing the point of becoming bottomless pits.
While my boys would be happy downing a bag of potato chips after school, I, however, would not.
I know how important food is in our natural remedy journey with ADHD.
Katie's Healthy Snacks to Go offers easy to make, yummy to eat snacks for lunches boxes, after school, and for any on the go activity. Katie always offers gluten-free or dairy-free options for all her recipes – which meet our ADHD diet restrictions.
I do not mind letting my kids "pig out" because I know that they are eating great food. Katie's granola bars have been a staple for years! I make her coconut and pumpkin muffins on nearly a weekly basis. I often triple the recipe, so I have snacks ready to go in the freezer.

Case-it Zipper Three-Ring Binder
No matter how much some kids need it, you can't follow them around all day to make sure they keep themselves organized.
This binder is the next best thing.
Once my son hit middle school he had such a hard time keeping himself organized. This binder is a great ADHD resource for students and has helped a TON. He can keep everything in it and now forgets homework much less often than before.
My son can carry this to every class. Everything goes in it…even loads of supplies.
It truly helps my son be a better student. The binder gets emptied out each Sunday to keep it as tidy as possible. He decides what stays in and what can be thrown away so he can get ready for the week ahead.
Update: It's also super sturdy – we are on our third year with the same one!
Anything that helps scaffold my kiddo to be more organized is a no brainer!

A Weighted Blanket
As my oldest is now in 9th grade, bedtimes continue to be difficult. With hormones kicking in, his anxiety is rising. In fact, anxiety often takes a front and center stance, even over his ADHD.
My son needs me now more than ever at bedtime – to help him calm down and ease the transition to sleep.
His weighted blanket is literally, a God-send.
He has told me, "Mom, I love my blanket so much. It really helps me feel better."
We follow our bedtime routine, as always – brush teeth, shower, some reading. Then it's lights off and he puts the blanket on just the way he likes. I stay in the room for awhile doing a little of my own meditation – and he is asleep by the time I finish my own quiet time.
I'd love for him to be much more independent at bedtime, but this is a tough transition time for him. So, for now, the weighted blanket and a few minutes of my presence is what he needs.
True story: Just the other night, my oldest was complaining he could not fall asleep – yelling for me to come sit in his room. This went on for awhile, with me shouting back up the stairs, "you can do it, I know you can."
Exasperated, I went upstairs and his weighted blanket was off! I reminded him how much this helps, and placed it back on. No joke, within 5 minutes that kid was asleep!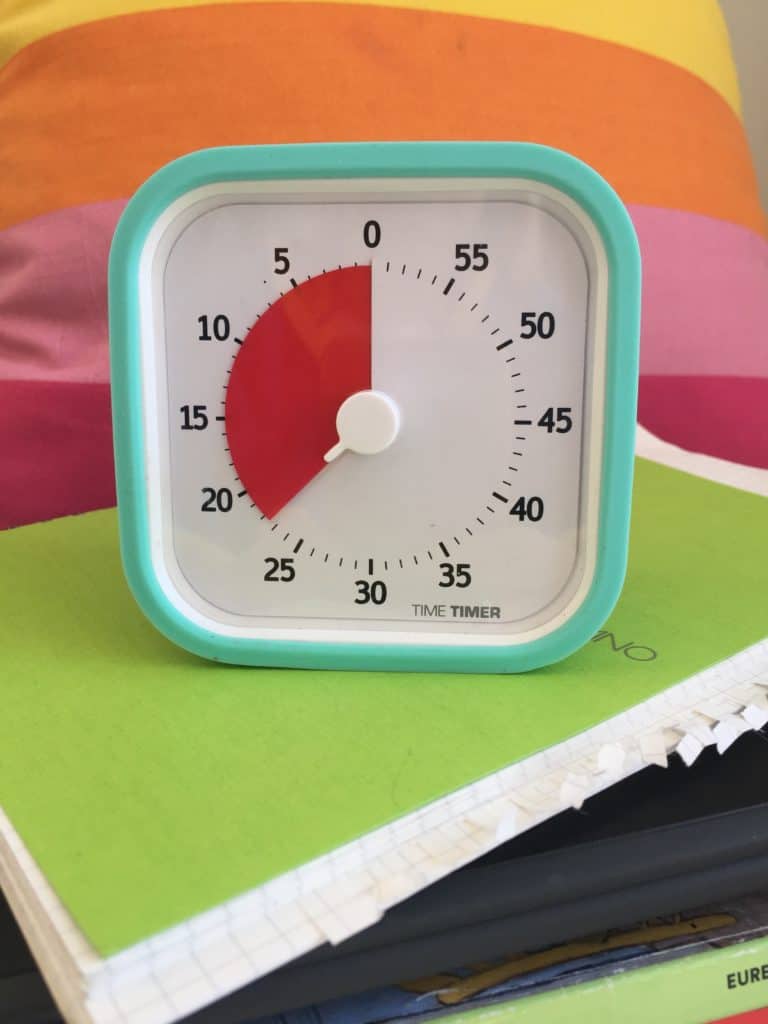 A timer for ADHD homework struggles.
If you've read my ADHD homework tips post, you know we've had our share of homework struggles. My kids often do not even want to sit down to start their homework for fear it will take the whole evening to complete.
Their time blindness rears it's ugly head just about every night.
Enter the timer.
I use this timer to convince my kids to "work for just 10 minutes". They see how much can be gotten done in this small amount of time and will usually sit to complete their task(most assignments actually get done in 10 minutes or less).
Aside from the weighted blanket, this is the most used ADHD resource in our house. We use it for clarinet practice, video game time and independent leisure time(our term for solo-time in their rooms).
For more about our timer, see this post.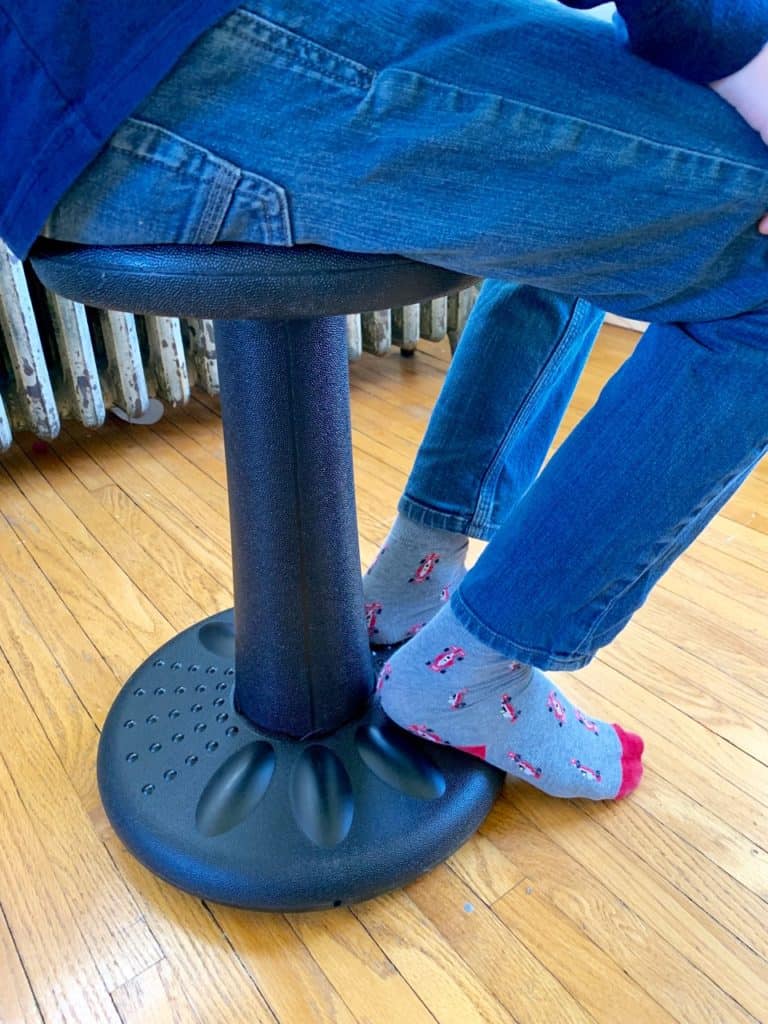 This wiggle stool… stops so many arguments!
Both of my kids rock back on just about any chair they sit in. Because, you know, most days, they have to be moving pretty much constantly.
It became an argument at every meal…so I ordered each of my boys a wiggle stool and the fighting stopped!! It was actually kind of a "duh" moment – I don't know why I hadn't thought of this before.
This was so helpful for distance learning, too!
This stool engages the core and allow my kids to move their bodies but remain seated. It helps them to sit for longer periods of time, whether it be for homework or at the dinner table. We have the teen/adult version, but this child version is the same, only smaller.
I have them in my classroom, too and the kids LOVE them.

And a really good read.
I have lots of really good books on ADHD. This is my current favorite.
Differently Wired is written by Deborah Reber, one of my favorite podcasters. Reber is so candid about raising her differently wired son – it is refreshing and I love her for it!
I saw myself in just about every page of her book. The book encourages us to celebrate children who are a bit different and offers heartfelt advice, tips and tricks for our often difficult, never boring journey.
This book is just so darn helpful – it stays on my bedside for a quick read when I need it.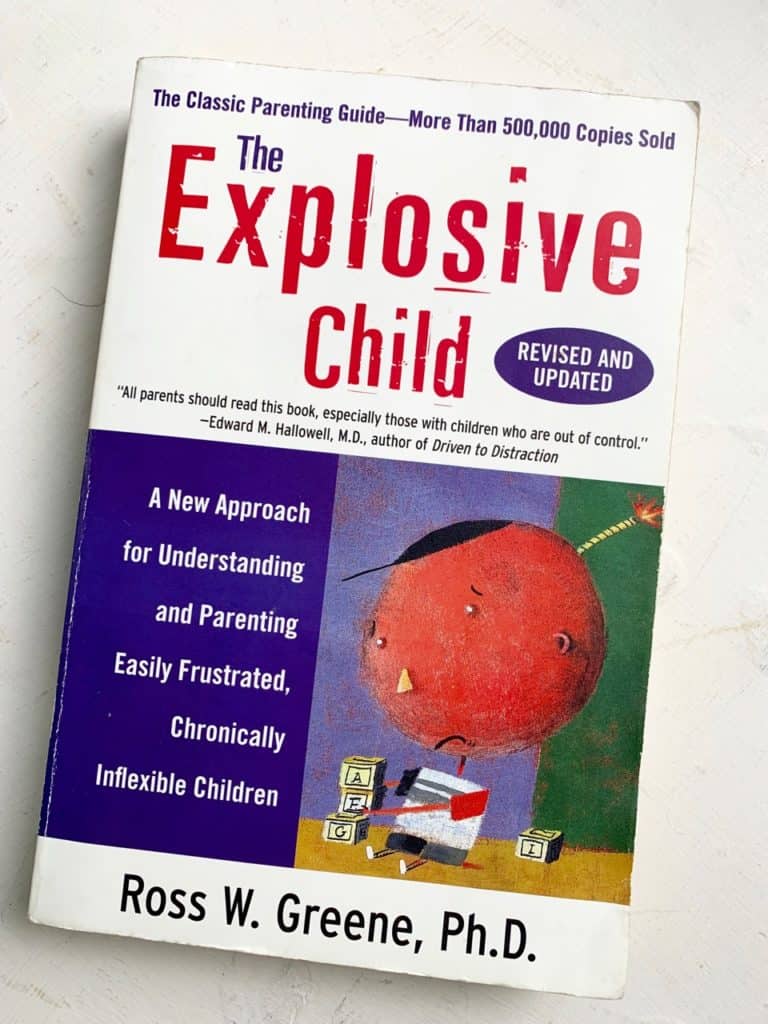 And Another Must Read
The Explosive Child is THE BOOK that changed my parenting. Ross Greene's practical solutions for finding what's underneath the angry, aggressive behaviors I see in my child are life-changing.
If your child is prone to explosive episodes, then, this is a must read.
Related: My Favorite ADHD Parenting Books
Some High Quality Supplements
I am big on supplements for my kids. You can read more about our regime here. But the one thing we take on a super consistent basis is KidsCalm Drink Mix.
My kids love it so much, they mix it on their own for breakfast everyday. It's got calming magnesium and focusing B vitamins, plus some other good things thrown in. It gives them a good hydrating boost, too, because we know the brain is 85% water!
This Dynamic Duo makes me feel great!!
I've know about JustThrive Probiotics for awhile – their spore based formula survive in the gut and is 1000x more effective than most of the products out there. I love their new addition of joot, which has particular strains of probiotics that enhance your mood.
I take these everyday and noticed a difference in my overall mood in about two weeks! I can't live without them!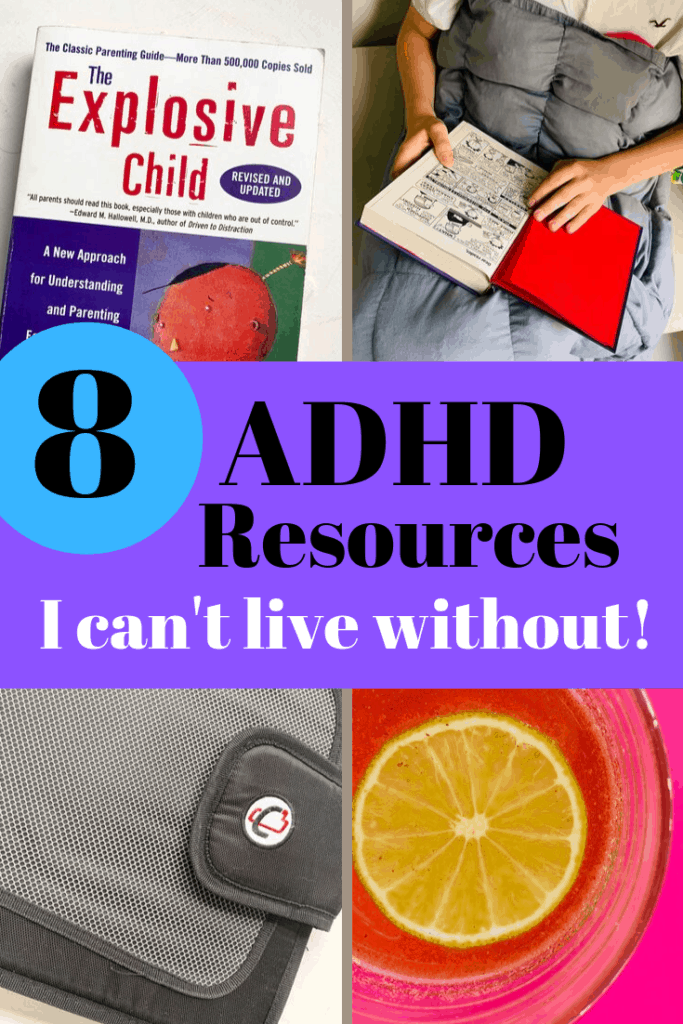 Have you seen our favorite activities for ADHD Boys?
Get the huge list of ADHD Parenting resources HERE.
This post contains affiliate links for your convenience.