Heading back to school with ADHD is not an easy task and is often involves more than just a few jitters.  The summer provides such a refuge for my kids because school and the social and academic pressures surrounding it are what causes 85% of their triggers.
I don't take this major transition for us lightly. 
Over the years, through lots of trial and error, we have learned a few great ways of calming those first day jitters and making heading back to school with ADHD a less stressful time for everyone. (you included!)
Tips for Heading Back to School with ADHD
Get the kids involved!!
Your kids may be enjoying their last few weeks of loafing around, but it helps everyone concerned if they help with the preparations of school. Doing things like shopping for back to school supplies and new shoes starts to change their mindset and makes them feel more ready.
By giving them some decision making opportunities you are building their confidence and feelings of being in control. With so many things about school that they have no control over, it's nice for them to know they can be in charge of at least a few things. 
I make sure they have a say in as many ways as I can think of: Choosing their favorite breakfasts and lunches those first couple of days, what time we go to locker day, bike, walk, or drive the first day?….find as many opportunities as you can for them to weigh in. 
Get the supplies your child needs
Obviously all schools have a supply list that you are required or encouraged to get.You may already know what works best for your kid – and it may not be on the list.
Following the required list of supplies may not be the best thing for your kiddo.
Do not be afraid to ask for modifications for your child right away – at parent orientation or even before school starts.
 Even if its not specified in a 504 or IEP, most teachers and school staff are very accommodating when it comes to supplies. Perhaps your kiddo still needs wide-ruled paper or works best with a certain brand of pencils.  
We have a few things on my son's 504, like his Huge binder that keeps everything together (teachers wanted each class separate but that just doesn't work for him). 
We do our supply shopping in two sessions, so its not so overwhelming.  I give each of my kids 1/2 of their list and they try to find the needed supplies.  Of course, I double check and point out the better deals before we head to the check out line.
We're not rushed, we make it a fun activity that the kids look forward to year after year. I make sure we pick up supplies for home too, so we can set up a great homework space.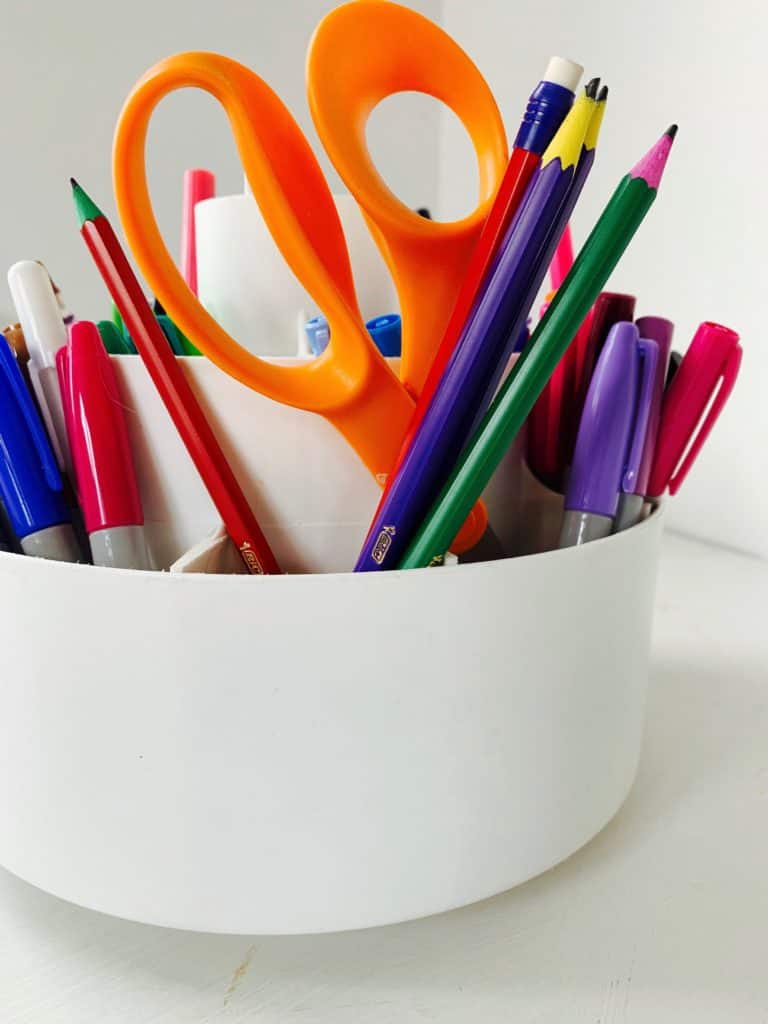 Set up a study space
It is so important for each of your kids to have their own dedicated study space – preferably within earshot of you.  Kids with ADHD typically need constant redirection to stay on task while doing homework.  
This is true for my kids, even as they are entering 6th and 8th grade.
Set up a study space in the weeks leading up to school, so they'll be ready to go. Find a space where they are comfortable, but also where their computer or phone use can be easily monitored. It's helpful to have supplies close by or in a caddy that can move around. 
My kids mostly use the kitchen table and a sofa in the next room. A lot of their work is done on a computer now, so most days, all they need is a plug!
Think about the big schedule change to come.
Sit down as soon as you can and familiarize yourself with next year's school schedule. Write dates down on a large family calendar for all to see. Discuss these dates as a family. 
It helps my son's anxiety tremendously to do a bit of a preview and talk about our schedule a few days-even weeks- in advance so there are no surprises. 
There may be many things about your schedule that will change as school grows closer.  Bedtimes, waking times, meal times,
Which leads us to……
Get back into a routine
All of these changes mean getting back into a new routine – it's one of the things I love best about going back to school.
My family runs so much smoother with a routine. Kids know what to expect and what the expectations are for them. 
You might have kept some of your routine in place during summer,  but surely the school year offers a great opportunity to get back to your familiar routine or modify it a bit to adapt to the new school year.
ADHD kids thrive on a routine. having the same things to do each day helps build their executive functioning and gives them confidence and a feeling of independence they may not get in other areas of their lives. 
Things to consider for your routine.
 Rising time, breakfast time, packing lunches, 
Morning hygiene – teeth brushing, showering, face washing, deodorant, getting dressed
Morning commute – walk, bike or ride the bus,
 After school stuff – unpack backpacks, snack, homework time, dinner time,
Bedtime – teeth brushing, time to read, family time
 If you only do one thing now:  Get your kids to bed earlier. This one simple thing can have a huge ripple effect – That will lead to waking up earlier, which in turn will mean going to bed earlier — you see what I mean?
Make a habit to get things ready the night before
While this may seem obvious, getting things ready the night before did not become part of our routine until last year.  With middle school came a ridiculously early start time and so things were much more rushed in the morning.
Which led to many a preteen meltdown.
Getting things started the night before sets you up for a successful morning.  Less rushing means a less anxious kid. It's now the most important part of our routine.
Make lunches, get backpacks ready and set them by the door, set out clothes, take a shower…starting this right off the bat will create a super helpful routine for you and your child. 
Go to any back to school activities your 
district may have.
There are usually a few opportunities to get kids into school even before the first day- Locker Day, End of Summer Bash, Supply Drop-off Night.
Whether it means being back on familiar ground or learning all about a new school, visiting the school before the big day will defiantly calm nerves.  It always helps to see familiar faces or get to know a few new ones.  
If you school does not offer any pre-school activities, call and arrange for a tour or ask if you can drop off supplies before the first day.
Get support in place early
Meet the teachers.  The best thing is meeting a teacher face to face. Take advantage of back to school nights and orientations to have you and your child begin to get comfortable with their classroom and teacher.
Orientation night is a great time to check things out, but most likely this is not the time to have any real informative conversations about your child. Teachers are overwhelmed and have so much on there mind for the for first week or so of school. Introduce yourself and your child.  Let them know you'd love to have a longer conversation once the year gets underway.  Exchange emails so you can set something up after the first week.
You will most likely have to create the opportunity to introduce yourself and your child more in depth. Tell them about your child. Tell them what works for you.
Send an email. If your school does not have an orientation night early on in the year, send a quick email introducing yourself and your child. Request a meeting once the year gets underway. 
Teachers love to get as much information about a student as possible. Any insight you can give into how your kid works is so helpful. 
Set up a meeting with the school psychologist. You might already know this person very well. But take a minute to check in – either inperson, if convenient, or with a quick email. Update any changes that have happened over the summer and express how grateful you are to be working with them this year.
Set up meetings to modify a 504 or IEP.  Contact the school psychologist to set up a  meeting to be preventative. Talk about any changes over the summer or any modifications that may need to be made.  
Talk with your family therapist. If you have a therapist that you see regularly, make sure to schedule an appointment close to the beginning of school to talk about any anxiety that may crop up. Our therapist gets very booked, so I am sure to choose our bi-weekly time slot we'll have for the school year early before it gets taken.

Plan your food
Going back to school means time to get back into packing lunches!
Planning lunches is imperative: My kids get such a huge benefit from following an ADHD diet – in fact, its the most powerful natural remedy I have to help the symptoms of ADHD. 
In addition to picking out their favorite snacks, we sit down and make a list of what they'd like their lunches to look like. 
We have a great system for lunches. For my middle schooler, having a lunch that looks like everyone else's is super important for him. I find myself caving a bit and letting him have a few things each week that don't meet our ADHD diet standards.  
Getting in a great breakfast can often make or break a morning at school.  ADHD kids benefit from a high protein, high fat, low sugar breakfast. Think eggs, bacon, leftover dinner, Avocado Toast, Oatmeal with protein powder.  We have a few favorites we continually rotate.
Have lots of conversations with your child. 
 Starting back up at school is a big transition time that stirs up a lot of feelings. Don't be afraid to initiate conversations about feeling nervous. Nervousness is normal but some kids definitely feel it more than others. 
Engineer the time and space to have those conversations – they won't happen unless YOU make them happen. 
Initiate more one on one time in the days leading up to school. Tell stories about yourself feeling nervous about school.  
Try asking things like, "What are your worries about the first day of school?" ,
"Are you nervous about anything in particular?"
"What are you feeling in your body when you think about school?"
"Is there someway that I can help ease your jitters?"
Don't dwell in the negative. Be as positive as you can about school. This one is BIG–Kids do what you DO, NOT what you say.  So show some enthusiasm and excitement about the first day of school.
These feelings are catchy. If they see your excitement and enthusiasm, they may wonder what all their worrying was about!
Spend more time together
Connection is often the antidote for so many things, including many of the symptoms of ADHD. (Dr. Ned Hallowell talks about this a lot)
Now, you may have spent lots of time with your kids this summer and are looking forward to a bit of a break once school starts.
Or maybe you work full time and your kids have been spending their days in camp.
Either way, spending even more time together over these last few weeks can go a long way in grounding your child and giving them the confidence they need to start school again. 
Check out this infographic for ideas about connecting with your kids: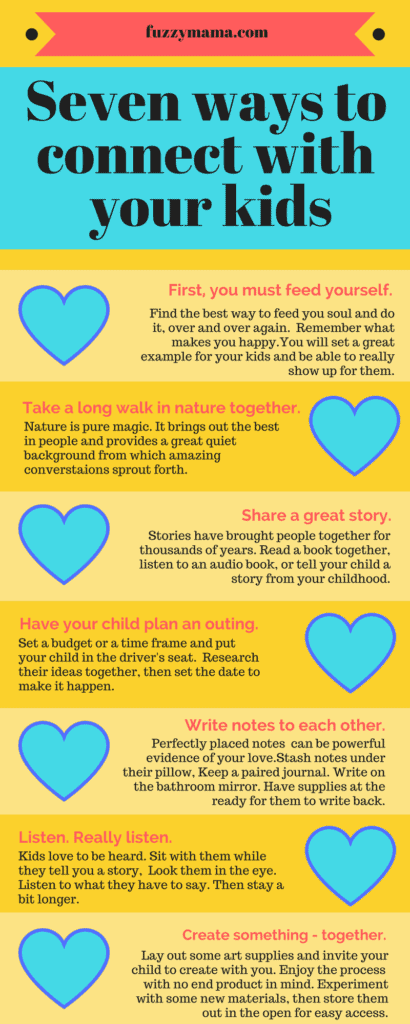 Start a tradition to celebrate the start of school. 
What better way to bring some positive vibes to a situation than create a celebration around it!   
Have ice cream with your neighbors. Start a bike parade around the school playground.  Send cards to your new teachers and your old ones! Show a movie in your yard.
The skies the limit on this one. Ask your kids, they'll think of something perfect.

What if I do all this prep and my kids are still nervous?
Even with lots of prep, you may still have a nervous Nellie on your hands that first day. Sometimes its  little things, that get their minds off their worries, that can soften the jitters:
Make them a special breakfast,
If time allows play a quick game of cards in the morning
Take a walk before school
Pack an extra special lunch,
Give them a little trinket to hold in their pocket to let them know you are always with them,
Write a special note in their lunch(unless they are in middle school and then it might backfire!)
Plan something to look forward to after school.
Unfortunately school can be all about fitting in–at least at first—so anything to help with feeling one of the gang  is great. I let my son bring a few "junky" items in his normally uber-healthy lunch the first few weeks. I also make sure his favorite clothes are clean and ready to wear.
These feelings may continue for awhile…..
Remember, this is a transition time. It may take several weeks for your child to feel comfortable at school. A new sleep schedule, the overwhelm of homework,  and the stress of social situations can all cause kids to not be at their best cheerful self. Your kids may be cranky for a few weeks.
Do your best to keep positive and make sure there is space for conversation.  Plan for lots of downtime, be careful not to fill up their schedule too fast.  Stay close.  Help with homework and pay attention.
We institute a 15 minute sit and rest time immediately after we come home from school. WE  ALL just plop on the sofa and chill–sometimes we read or do nothing. But its a great way to make space for some big feelings to come out—and also to just be close.
Please share you best back to school  ideas in the comments–I'd love to hear what helps you and your kids make a smooth transition from summer to school.
Want more help with ADHD?
Read about our ADHD Story HERE.
How I get my ADHD Teen to sleep like a baby, HERE.
SaveSave
SaveSave
SaveSave
SaveSave
SaveSaveSaveSave
SaveSave
SaveSave
SaveSave
SaveSave
SaveSave
SaveSave
SaveSave
SaveSave
SaveSave
SaveSave
SaveSave
SaveSave
SaveSave
SaveSave