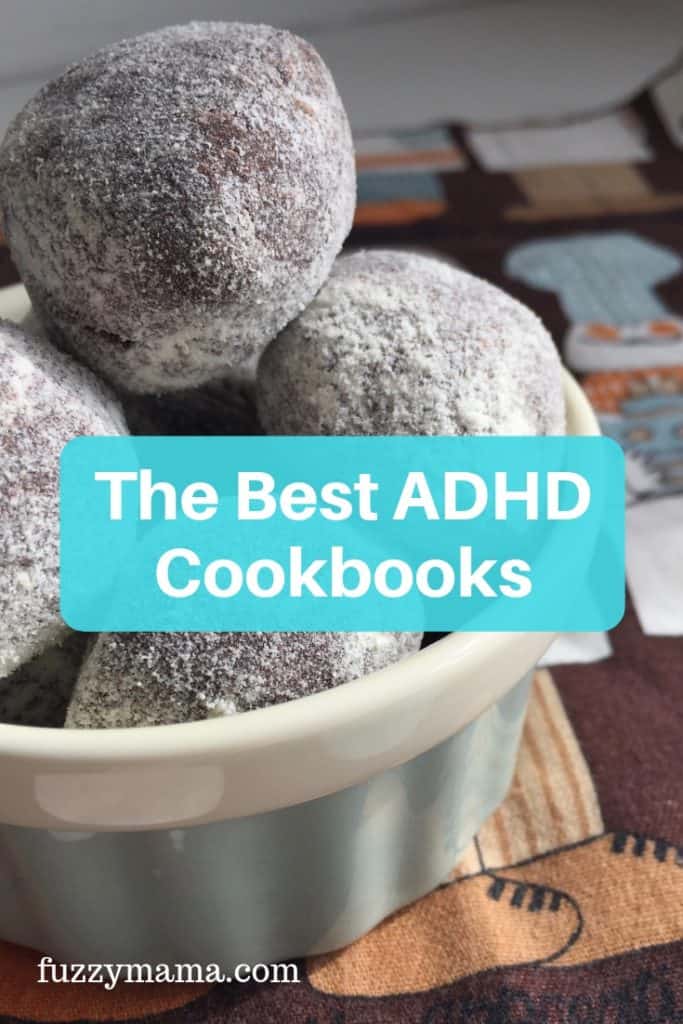 I love finding cookbooks that have recipes to fit our ADHD Diet – high protein, gluten-free, dairy free and super low sugar. While I am sure there are many cookbooks out there that could be helpful, I have found what I consider to be the best cookbooks for ADHD.
While only one of these specifically has ADHD in their title, my favorite cookbooks for ADHD offer yummy, family friendly, easy to prepare (read: not a lot of fancy ingredients) recipes that can be tailored to fit our nutritional needs. We are gluten free, (nearly)dairy free, and use sugar from maple syrup and raw honey only.
With two fairly picky eaters with ADHD, I need super healthy food that my boys will eat and these cookbooks serve that up!
Affiliate links are provided for your convenience.

Kitchen Stewardship Cookbooks
I have mentioned Katie before, but hands down Kitchen Stewardship's cookbooks are my absolute favorite. I use them, literally, on a weekly, if not daily basis. These were the first cookbooks I got when my oldest was diagnosed with ADHD and we were making changes to our diet.
Katie offers tons of great ideas for breakfasts, snacks, and lunches that can be tailored to your nutritional needs. Her cookbooks read almost like a great book that you can't put down, full of super useful information with each yummy recipe. I purchased the entire set in pdf form and have them in a binder that I use – All. The. Time.
Do you have a kiddo who gets hangry??? The snack cookbook should be your first purchase.Ever since my oldest was a toddler, I have had to carry snacks everywhere we go. We love her grain free pumpkin muffins, peanut butter kisses, roasted chickpeas, and her granola bars.
Katie has a 30-day money back guarantee on any of her products, which I've never had to use, but it's nice to know she really stands by her products. Check them out HERE.

Real Everything's Cookbooks
Stacy Toth and her husband run Real Everything, a great blog chronicling living paleo as a family. Even though we are not strict paleo, I love Stacy's cookbooks because she offers amazing, kid-friendly recipes that fit our ADHD Diet. Stacy has been candid about her son's struggle with ADHD and how food was a huge part of his healing process.
Stacy has many cookbooks, but 2 of them are my favorite!!
Eat Like a Dinosaur is amazing for finding kid-friendly recipes that are gluten free and dairy free. You can read thru this book with your kids and pick a few recipes to try. We've nearly tried them all and still use them in our monthly rotation of meals. We have many favorites that we make all the time including the Sweet Potato Biscuits, Pumpkin Pucks, and Meatloaf Cupcakes.
Paleo to Go, another book available on Stacy's site, has fantastic recipes for lunch or snacking on the go. Like all of her books, there is so much information perfect for families trying to eat healthier. I love her ideas for getting kids involved, her list of their favorite packaged convenience items, and the best way to pack healthy lunches for the entire family.
With all this great advice, the recipes almost seem like a bonus! We love the Butter Pecan Apples, the Blueberry Cookies, and the Black Olive Tapenade. Oh and the Bacon Wrapped Dates(yes, my kids can make these themselves!)

The Kid-Friendly ADHD Cookbook
Food can be such a huge part of the healing process.
The Kid-Friendly ADHD and Autism Cookbook makes it easy for you, step, by little step, to begin a healthier food journey.
This book is divided into two parts – the first half is a wealth of information about how food affects ADHD, while the second half provides plenty of kid-friendly recipes to satisfy even the pickiest of eaters.
The Kid Friendly, ADHD and Autism Cookbook has loads of information about specific changes you can make in your child's diet that will have big results. This is such a comprehensive book with chapters on food reactions, specific tips on eliminating the big culprits – gluten, casein, and soy, and how to deal with picky eaters.
My favorite recipes in this book are the salads – tons of fruit and veggie salads that my kids will eat!! The Wild Rice Fruit salad and Pasta Supreme are favorites, as well as the every popular Waldorf Salad.

The Wellness Mama Cookbook
I just love Katie Well's, The Wellness Mama podcast, so I knew I'd love her cookbook. Katie is a wealth of information about food, health and family and she certainly gives you loads of advice in her cookbook. As a mother of 6 kids, clearly she is busy and has had tons of experience with picky eaters, meal planning and budgeting for a big family.
This is the cookbook I go to for new dinner ideas….she has lots of easy, yet super nutritious meal ideas. Out favorites are the Cottage Pie Stuffed Sweet Potatoes, Sweet Potato Casserole, and the Ground Beef Vegetable Soup.
My kids love the Berry-Chia Breakfast Crisp, too – which gets in a good serving of fruit and protein first thing in the morning, not to mention some superfoods as well. Katie includes other goodies, such as menu plans and a big section on drinks – I love the Super Mom Coffee Recipes.

Ella Woodward, blogger at deliciouslyella.com has a bunch of great cookbooks out with yummy plant based recipes. We are not vegetarian, but I always love new ideas for getting more fruit and veg into my kids.
I have her original cookbook, Delicously Ella, but she has a few more out now, like this one, that talks about batch cooking. (Hhhhmmmm….maybe that would help me, big time!)
Ella has a dynamite Black and Kidney Bean Chili, a yummy Superfood Bread, and sweet potato pancakes my kids take in their lunches!! Get a sneak peak on her website: We love these Banana Pancakes and the 5 ingredient cookies are amazing!!
I loved this cookbook since the minute I flipped through it's pages. The authors, Alissa Sergersten and Tom Malterre focus on wholesome, nourshing foods that fit just about every dietary challenge. This dynamic duo has another book I own – The Whole Life Nutrition Cookbook.
This pair of nutritionists, who also happen to have 5 kids, have made it their life's work to find meals that kids love and that are nutritious and easy to prepare. Their style is approachable and full of common sense.
I love the recipes for the attention to nutrition – each one is packed with lots of extras and superfoods, without a whole lot of fuss. We love the banana buckwheat muffins, the sloppy joes, and the nourishing meatloaf (have you ever used chestnut flour?)
The book's introduction is full of great ideas for raising healthy kids and even addresses issues like ADHD and food allergies.
With recipes developed by kids, for kids, Chef Junior is an amazing cookbook to get your youngsters not only interested in real food, but cooking on their own, too. I'm partial to this book because one of the teen authors is Katie Kimball's son, Paul. (Remember, she's the author of my all time fave cookbooks?)
Chef Junior has recipes that are not only ADHD Diet friendly, but kid friendly as well. All the recipes are meant to be at a lower skill level, so are easy to prepare. That makes it easy on this working mama, too!
These dishes are prepped in under 10 minutes, which is great for weeknight meals. We love the gluten free Puffy Snack Mix, the Lentil Soup, and the Cheeseburger Casserole (minus the cheese, of course).
My younger son really loved this cookbook when we were first in pandemic mode and taking the Katie Kimball's Kids Cook Real Food Class. He had many of the pages dog-eared and ended up cooking many on his own. This cookbook really is great for the 9 and over set to use on their own.
Please let me know if you find one of these as helpful as I have –Hope on over to Instagram and let me know what your favorite cookbook is!
Need more help with your kiddo's ADHD diet?
Did you see our honest review of Raddish Kids Cooking subscription box?
My most read post on ADHD Breakfast ideas is HERE.
Read about our favorite ADHD snacks for lunches or on the go HERE
We love these superfoods to enhance our ADHD diet.