Non-Fiction Books Your Kids Will Actually Read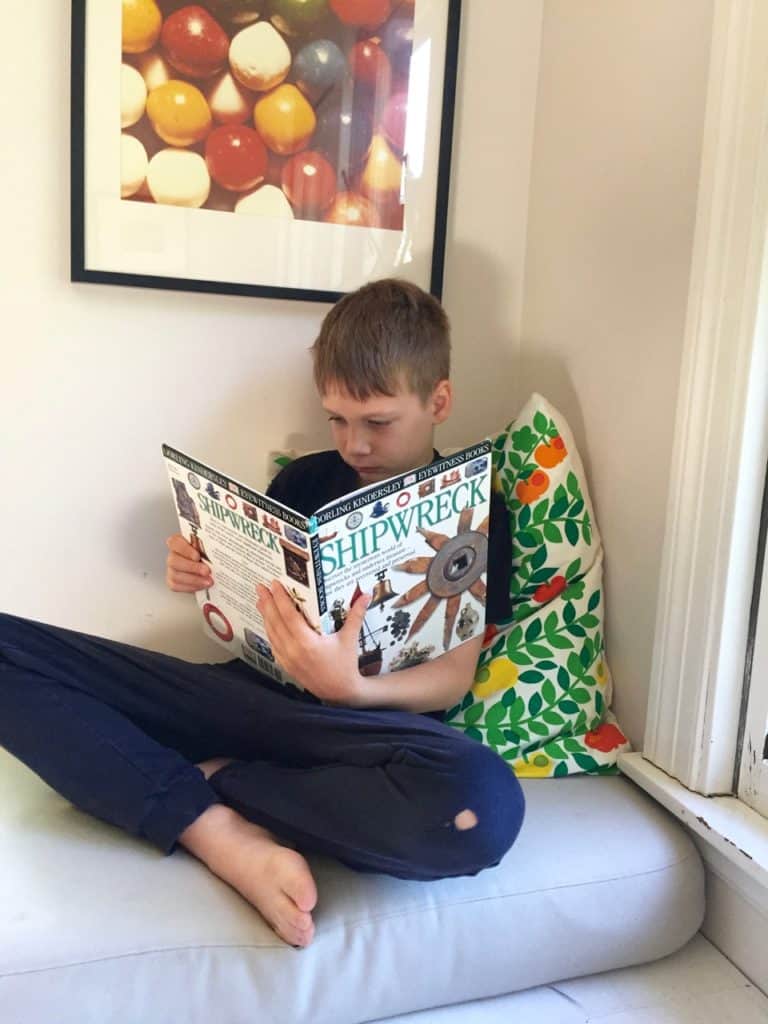 I talk a lot about reading on this blog–it is something our family LOVES to do– and while I mostly refer to fiction books, non-fiction reading takes up a big part of our reading time, too. In fact, we go thru spurts where both boys seem to be reading exclusively non-fiction titles. If your kids are not into non-fiction yet, or you want to check out some new titles, I have a whole list of non-fiction books for kids that they will actually read. (Scroll down if you can't wait!)
But, first–why should kids be reading non-fiction? Here are just a few reasons to stock your library with some non-fiction titles:
Non-fiction books usually have lots of pictures and diagrams that appeal to  both emerging and seasoned readers.
The format of non-fiction books allows kids to just open to any page and start reading.
The "shelf life" of a non-fiction book is much longer than a fiction book.  We go back again and again to reference our books.
Non-fiction books are a great way to sneak in learning.  My boys have gained so much  knowledge from just having non-fiction books around.
Non-fiction books can be a great help to satiate the quest for knowledge and information that many kids experience in the elementary years.

Here's our favorite non-fiction books(the whole family will love!):
Just about anything published by Doris Kindersley!  I have collected Eyewitness Books  for years and they are read just as much by my 10 year old as they were when he was 3.  These books have amazing illustrations and lots of captions and small paragraphs which make them appealing to the reluctant and voracious reader alike.  Their Visual Dictionaries and Eyewitness Series have been our favorites, like this and this and this one.
Julia Rothman's Nature Anatomy and Farm Anatomy are great on so many levels.  They are a wealth of knowledge presented in  really neat drawings and diagrams(see pic below!)  Both offer a visual tour of the natural world for young and old. Superb vocabulary builders! My boys are getting her latest book, Food Anatomy, for their birthday.
The Elements by Theodore Gray is an amazing book for kids full of interesting information about the building blocks of life.  My older son was on a periodic table kick for awhile and he really got into studying this book. You can see from the spread below on Nickel how beautifully done this is  Filled with facts, diagrams, and photographs, this is a great coffee table book, too.
David Macaulay has been a favorite non-fiction author of ours almost as long as my kids have been able to pick up a book.  His illustrations are so impressive. Detailed step by step drawings show how castles, cathedrals, and ancient cities are built.  I love books that open up worlds and get kids to think about new things. I am pretty sure I can credit David Macaulay for getting my kids to start drawing floor plans and elevations!
Another author who does amazingly detailed illustrations is Steven Biesty.  His cross-section books offer a look inside every layer of a castle, man o'war and ancient Rome, to name a few. The books describe not only the physical structures themselves, but all who inhabit them, as well. Stephen Biesty's books have provided us with hours and hours of pleasure!
Columbus, Abraham Lincoln, and George Washington by Ingrid and Edgar Parin D'Aulaire are captivating biographies first published in the fifties. This author/artist duo wrote many more books, all noted for their accuracy(they spoke 4 languages and travelled the world doing research) as well as their amazing illustrations.  The content is interesting to children because it goes into such detail about the lives of these greats.  We also love their Greek Mythology book. These books are pretty meaty and make  great read aloud selections.
While non-fiction books are great any time of the year, summer brings lots of extra time to read.  I talked about avoiding the summer slide in my last post and reading can be a huge part of that.  Non-fiction books can be especially appealing to kids in the summer when there is time to further explore topics of their choice and lead their own educational experience.
Do you have a favorite non-fiction book?  Please share in the comments below!
If you found this article helpful and know someone who'd benefit from it's content, please share.
[themify_box style="flat" color="gray"][mc4wp_form id="5567″][/themify_box]
SaveSave
SaveSave