Prevent summer slide: ideas from a teacher and her own kids
Unfortunately, most of what you hear about summer slide is true. Typically, kids lose about 2 months worth of knowledge if they do nothing over the summer. Top that with the 4 to 6 weeks it then takes to get in the groove once school starts and we are talking 3 to 4 months of catching up to do.
Yikes.
But, luckily there are so many easy and fun ways to prevent summer slide.
how does a teacher prevent summer slide with her kids?
Well, it might not be what you think–in our house there are no strict schedules, no school desks set up, or timers(Well, we do have timers!!). It may surprise you to know that I am a little loose-y goose-y in my approach to preventing summer slide.  
This is descriptive and not prescriptive – everyone is different. But, I know it's always interesting to see what has worked for someone, just to get some ideas. Update: My kids are now teens! But I am keeping this post exactly how it is, because now I can see this stuff works!
how to prevent summer slide with Your kids.
1. read.  A lot.
We read together – literally. I am still working to get my third grader into meatier chapter books. So I have a few titles picked out and I sit with him-he reads a few pages and I read a few pages. It gets him into the story and then he usually takes off by himself from about the halfway point.
I do a lot of reading aloud. We have family read aloud time during the year, too, but over the summer I can manage to get in even more read aloud time. It's a great way to spend a rainy afternoon. Take a book with you on a picnic lunch.
We listen to audio books and stories. We are huge fans of audio books. We get books on CD from the library and listen on long car rides or on nights when I am too tired to read aloud. Kids can listen to books that are a higher level than what they read themselves, making this a great way to hear lots of new vocabulary words. Some favorites are Winnie the Pooh, Mary Poppins, Pippi Longstocking, Star Wars Shakespeare, and Sparkle Stories.
We make frequent trips to the library. I don't participate in contests, or keep a book log, or bribe my kids in anyway to read.(See why here.) But we make frequent trips to the library and take advantage of their free programs. We also enjoy visiting libraries in neighboring towns-some have great maker spaces or other amenities open to the general public.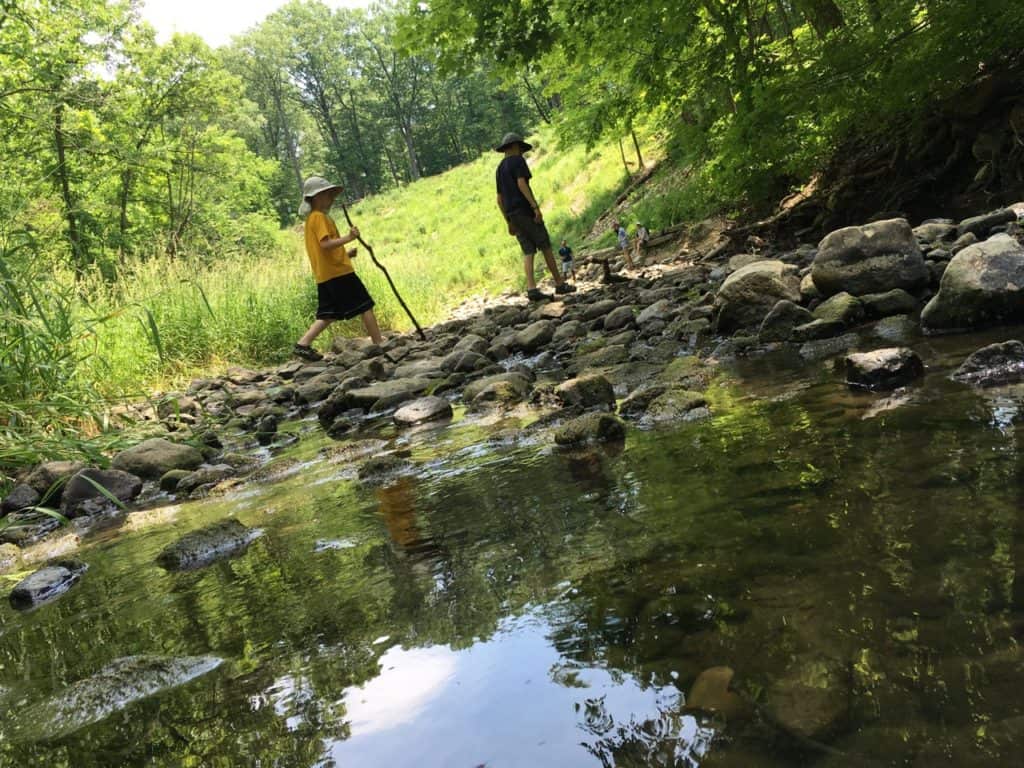 2. learn organically, follow Your curiosity.
With summer's slow pace, you can really give your kids time to follow what peaks their interest. We take lots of walks in nature and then spend time learning about the animals or wildlife we see. These books has been a great resource for us. We are recording our findings in a family journal.
Both of my kids are history buffs, so we have been listening to Story of the World-The Ancient World. Then we checked out a few books on ancient history from the library. My kids love, love, love this one. Even if my kids end up just thumbing thru the books, they are soaking up lots of good stuff. Next week we may be on to something else and that is okay!
3. do some downright practical things
Summer is a great time to tackle some of those things that are hard to find extra time for during the year.
Both of my kids will be getting better at their "typing" with Keyboarding Without Tears. One of my son's is also doing a bit of handwriting practice.
We play some games with flashcards now and again to keep up with our facts, too.(download my free flashcard hacks ebook here)
4. fall back on "workbooks".
I am generally not a fan of workbooks, worksheets or lots of rote learning. However, one of my kids LOVES to do workbooks. We have these, which are decent by my tough standards and if we have time and nothing else in the works, I let them pick a few pages out and do them.
All of these things happens without much planning–we just see when they fit in. Because my kids really do enjoy most of these activities anyway, they usually just pick something up by themselves. An hour before the pool opens? Let's do some keyboarding practice. We got rained out of something? Let's go to the library instead. Most of the time our summer learning goes fairly smoothly. BUT…..
I will not lie. Doing work over the summer is not all rainbows and unicorns.
5. Somedays, kids Might do things they hate.
With the extra time that we have over the summer, I always want to put a bit of focus on my kids' short comings. I know what they have struggled with during the year and really work hard to give them a little boost in those areas before school starts again.
I have a kid who hates writing and one who hates math. I get some eye rolls and possibly a few tears when its time to work on these areas, but I know it will only be worse if we do not address these issues on a continual basis during the summer.
Check out my pinterest board for the strategies I use for my reluctant writer. To help my kid who struggles with numbers I use this board and this board.
I really hope you have found some ideas that you can use to prevent summer slide with your own kids. Share your ideas in the comments–I love to hear how you are keeping the learning going all summer long.
6. Be Covert!
There are so many awesome learning experiences to try with your kids that look nothing like school. visit Museums, bake for a local senior center, visit a pet shelter with an armful of paper towel rolls to donate.
Play in the mud to build hand strength, scout out garage sales for new sports equipment, give your kids an allowance for books and find a neat second hand book store, take binoculars on a hike. Giving your kids a varied diet of activities over the summer will serve them well, not just come fall, but for years to come!
Yes, teachers can tell
As a teacher for over 20 years, I have to be brutally honest and mention that it is always obvious which kids have been engaged over the summer and which have not. It does not take much to keep the learning going over the summer and give your kids a bit of an advantage in the fall.
This post contains some affiliate links. Thank you for your support.SaveSave